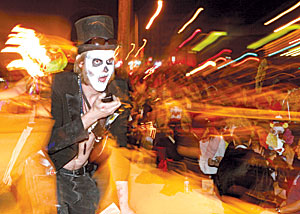 Jacob Konst/Arizona Daily Wildcat

Inspired by Mexico's Dia de los Muertos holiday, the 16th annual All Souls Procession brought out thousands of dancers, drummers, floats, fire dancers and onlookers to downtown Tucson on Sunday. The procession is designed to be a sanctuary for community members to express their grief and loss in a celebration of life.

By Seth Mauzy
Arizona Daily Wildcat
Tuesday, November 8, 2005
Print this


Tucsonans celebrate life, honor dead during annual All Souls Procession

Thousands of revelers filled the streets of downtown Tucson on Sunday to celebrate the 16th annual All Souls Procession.

The procession is a nonmotorized parade featuring more than 1,000 dancers, drummers, floats and fire dancers who marched downtown from the corner of East University Boulevard and North Fourth Avenue.

Thousands more passers-by lined the streets, with almost everyone wearing elaborate costumes, masks or skulls painted on their faces. Others carried banners or enormous puppets of skeletons and birds, and it was impossible to look in any direction without being reminded that the massed multitude was celebrating death.

"The general theme is remembering and honoring our ancestors and connect with the spirit of celebration with those who are still with us," said Tony Novelli, a co-organizer of the event.

Novelli said the event is not based on any one religion but "borrows most heavily on Dia de los Muertos because of the strength of regional influences."

Dia de los Muertos is a celebration that dates back more than 3,000 years to Meso-American celebrations that recognized death as an awakening to a new stage of life. These celebrations were merged with Catholic tradition, and the modern incarnation of the holiday is celebrated all over Mexico and the American Southwest.

Celebrants honored lost loved ones, pets and those who perished in natural disasters with colorful costumes, banners and homemade floats. Others took the opportunity to draw attention to political causes ranging from soldier and civilian deaths in Iraq to the hunting of the sandhill crane.

The procession gave even those who hadn't lost a loved one this year a chance to cherish and celebrate their own lives.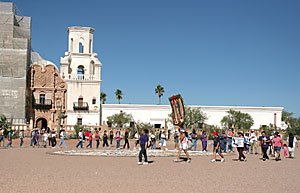 Cassandra Tomlin/Arizona Daily Wildcat
More than 100 people marched eight miles from Saint John's Church in South Tucson to the San Xavier Mission on Saturday to honor the 282 known people who have died attempting to cross the U.S.-Mexico border this year. The march was hosted by a number of local human rights and border activist groups, including Coalición de los Derechos Humanos, Healing Our Borders and No More Deaths.
"I've been really fortunate that I haven't lost anyone close to me," said Heather Wodrich, a studio arts senior. "I have had a lot of health problems this year, and personally I'm celebrating being back in good health."
But while the procession is undoubtedly influenced by a religious and cultural holiday, Novelli stressed that Sunday's procession moves beyond these boundaries and includes the entire Tucson community.
"This is truly a multicultural celebration," Novelli said.
The event was organized by Many Mouths One Stomach, a nonprofit collective that includes members of Flam Chen, a local fire-dancing group, and Tucson Puppet Works.
The result was a lively procession that culminates with a spectacular finale featuring trapeze dancers suspended on a crane 50 feet above the gathered crowd accompanied by the Taiko drumming of Odaiko Sonora.
The dancers resembled angels in their flowing white robes as they were lowered, twirling, to the stage, only to be replaced by an enormous orb plastered with the faces of the dead.
As the great sphere was raised, black-clad men on stilts raised torches to light two dangling fuses. The globe soon exploded, raining cinders and sparks down as the crowd howled with delight and the reek of kerosene filled the air.
"This is a unique cultural thing that's so much bigger than Tucson or myself," said Jeff Hawkinson, a creative writing senior who marched for the first time in the procession as a skull-faced businessman. "I'm glad I got to experience this before I graduate and leave town."
Another sobering part of the holiday's celebration came Saturday when more than 100 people marched from South Tucson to the San Xavier Mission.
The march honored the 282 known people who have died while attempting to cross the U.S.-Mexico border this year and was sponsored by several local human rights and border activist groups.


Write a Letter to the Editor