Sunday, November 13, 2005
The Arizona football team missed its first chance to win three consecutive games for the first time since 2001, falling to Washington 38-14 last night at Arizona Stadium.

The Wildcats (3-7, 2-5 Pacific 10 Conference) turned the ball over four times while being out-gained by the Huskies 490-322.

The big difference came in the run game, where Arizona managed just 87 yards to Washington's 333, a season high, behind running back James Sims's career-high 205 yards on 30 carries, including a touchdown. [Read article]

---
Tuesday, November 10, 2005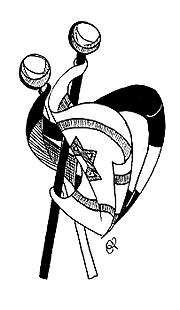 If I hadn't read it with my own two eyes, I wouldn't have believed it.
Two weeks ago The New York Times reported that Iran's new president, Mahmoud Ahmadinejad, told an anti-Zionist student rally that Israel "must be wiped off the map."
Something tells me he's probably not going to be getting many Hanukkah gifts this year.
If there was any doubt before Ahmadinejad's remarks that anti-Semitism is alive and kicking in the Arab world, there should be none now. His remarks were not an extemporaneous aberration but were actually a concise and unfortunately accurate summary of Arab attitudes toward the Jewish state. [Read article]

·
Journalism faces tough decision
·
Writing in the margins: The American 'Nobility'
·
Pass/fail: See if these ideas make the grade
·
Mailbag
Latest Issue: November 3, 2005
Latest Issue: November 8, 2005
Tucsonans celebrate life, honor dead during annual All Souls Procession
Thousands of revelers filled the streets of downtown Tucson on Sunday to celebrate the 16th annual All Souls Procession.
The procession is a nonmotorized parade featuring more than 1,000 dancers, drummers, floats and fire dancers who marched downtown from the corner of East University Boulevard and North Fourth Avenue. [Read article]

require('/home/webby/html/papers/98/polls/current.php')?>



showAds('bigbutton')?>







showAds('mediumbutton')?>


showAds('wildlinks')?>