Monday, November 14, 2005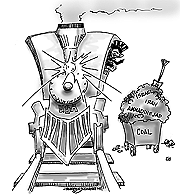 "Gimme blood. Gimme blood. Gimme blood pollution." Wow, are those lyrics to a Steel Dragon song or a good summary of President Bush's terms in office? I'm having a hard time distinguishing between the two.
The Bush administration's foreign policy stance has been wanting over the past six years. First, it tells the international community to shove it, causing enormous rifts in alliances dating back decades.
Next, it illegally invades a sovereign nation on unfounded claims that said nation poses an imminent threat to the national security of the U.S. Now it engages in an unwinnable war against terrorism. [Read article]

·
War on terror? U.S. still fighting that, right?
·
Mailbag
Latest Issue: November 3, 2005
Latest Issue: November 8, 2005
Tucsonans celebrate life, honor dead during annual All Souls Procession
Thousands of revelers filled the streets of downtown Tucson on Sunday to celebrate the 16th annual All Souls Procession.
The procession is a nonmotorized parade featuring more than 1,000 dancers, drummers, floats and fire dancers who marched downtown from the corner of East University Boulevard and North Fourth Avenue. [Read article]

require('/home/webby/html/papers/98/polls/current.php')?>



showAds('bigbutton')?>







showAds('mediumbutton')?>


showAds('wildlinks')?>