Tuesday, November 15, 2005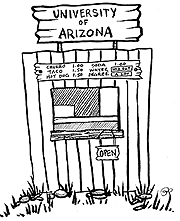 Every year, a collective groan engulfs the campus as next year's tuition increases become public knowledge. Unfortunately, this year predicts a similar trend as rates will rise for both in-state and out-of-state tuitions as reported in yesterday's Wildcat.
As chagrined students seeking out needed funds from the already dire financial aid situation, it's time for us to discover the true use of our tuition money. But, more than that, we must fight for our right to receive a proper education from an entity that views us more as commodities than actual individuals. [Read article]

·
United Nations: international terrorists
·
Editorial: San Francisco fascism
·
Mailbag
Latest Issue: November 3, 2005
Latest Issue: November 8, 2005
Tucsonans celebrate life, honor dead during annual All Souls Procession
Thousands of revelers filled the streets of downtown Tucson on Sunday to celebrate the 16th annual All Souls Procession.
The procession is a nonmotorized parade featuring more than 1,000 dancers, drummers, floats and fire dancers who marched downtown from the corner of East University Boulevard and North Fourth Avenue. [Read article]

require('/home/webby/html/papers/98/polls/current.php')?>



showAds('bigbutton')?>







showAds('mediumbutton')?>


Tuesday
---
5:30 pm
UATV: Daily Dose
6 pm
UATV: Wildcast
6:30 pm
Wildly Popular
7 pm
In America
9 pm
About Schmidt
11:30 pm
The Girl Next Door

Show Schedule
Interview Archives

showAds('wildlinks')?>