Wednesday, November 16, 2005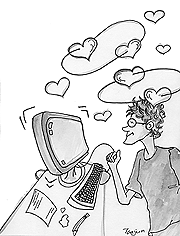 If you're not on Facebook.com by now, then you're either protesting it deliberately in an attempt to avoid doing what everybody else is doing, or you're afraid that stalkers will use it to come after you.
What started out as a simple way for university students to connect with one another online has now become a pillar of the college social scene.
Despite the fact that so many of us squander valuable study time in order to be connected to the dynamic social machine that is Facebook, it is in fact a valuable tool in a world that continues to perpetually thirst for information. [Read article]

·
Editorial: Battling Bush
·
Mailbag
Latest Issue: November 3, 2005
Latest Issue: November 15, 2005
Band Day brings out best in Southwest marching bands
With reality television all the rage, showdown competitions seem to be an everyday occurrence. There is the dance off, the sing off and the band off. OK, maybe you have never seen a band off, unless you will admit to actually watching "Drumline," but now you can.
The UA's Pride of Arizona marching band will be hosting its 52nd annual Glassman Foundation University of Arizona Band Day on Saturday, where high schools from all over the Southwest region come to "bring it" - marching band style. [Read article]



require('/home/webby/html/papers/98/polls/current.php')?>

showAds('bigbutton')?>







showAds('mediumbutton')?>


Wednesday
---
5:30 pm
UATV: Daily Dose
6 pm
UATV: Wildcast
6:30 pm
Wildly Popular
7 pm
Miracle on 34th Street
9 pm
Frequency
11:30 pm
The Lord of the Rings: The Fellowship of the Ring

Show Schedule
Interview Archives

showAds('wildlinks')?>