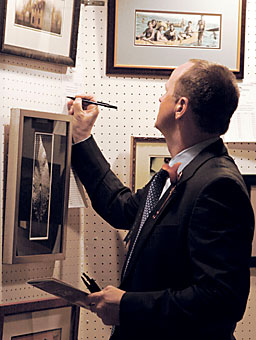 Courtney Smith/Arizona Daily Wildcat

The proceeds from bids on art during the 17th annual Jerôme Beillard Festival of Life hosted by the Southern Arizona AIDS Foundation on Saturday went to fund AIDS research.

By Seth Mauzy
Arizona Daily Wildcat
Monday, November 21, 2005
Print this


Students, campus assist with local charity tradition for first time in event's history

The Student Union Memorial Center Grand Ballroom was filled with Tucson's philanthropically minded who came to enjoy an evening of bidding and betting for a good cause Saturday evening.

The Jerôme Beillard Festival for Life, an annual charity auction benefiting the Southern Arizona AIDS Foundation, was hosted at the UA over the weekend for the first time in the event's 17-year history.

The evening featured both a silent and a live auction, with guests bidding on a wide array of artwork, gift packages and designer Christmas trees.

The artwork and gifts were donated by a number of Tucson-area businesses, and all proceeds from the auctions went directly to help SAAF provide services, including providing meals, housing and counseling for those living with and affected by AIDS.

The exact amount of money raised at the event was unknown at press time, but the festival raised $70,000 last year.

Attendees were also invited to sit at a number of gaming tables, including blackjack, roulette and craps, and purchase chips as a donation to SAAF. Chips could then be redeemed for raffle tickets for one of three prize packages.

The event has traditionally been held in hotel and resort banquet halls, but event organizers said that the UA's central location and the student union's large ballroom made the university a natural choice.

"We've had a lot of really good comments tonight about the ballroom," said Michele Bart, associate director of development for SAAF. "This is the perfect type of space for the event, and we were happy to have a lot of different possibilities for the lighting."

Bart said earlier concerns about parking proved to not be a problem, and that SAAF would definitely consider the UA for hosting future events.

Bringing the event to campus also brought the added benefit of students helping out with everything from setting up to serving snacks.

Vladimir Novokshchenov, a philosophy senior and intern for SAAF since April, was one of dozens of UA students who set up gaming tables and art displays since 8 on Saturday morning.

(The Southern Arizona AIDS Foundation) is always doing something important, whether it's prevention, education, fundraising.
- Vladimir Novokshchenov, philosophy senior and SAAF intern

Novokshchenov began interning with SAAF after volunteering at last year's festival, and said he was impressed with the organization's staff.
"I was looking for internships, and I liked the people I'd worked with at SAAF, so I applied," Novokshchenov said. "I was lucky to get my first choice."
Novokshchenov said he was also drawn to the charity because of the gravity of the issue of AIDS and the organization's active role in the community.
"SAAF is always doing something important, whether it's prevention, education, fundraising," Novokshchenov said. "SAAF has been great to work for because there are so many elements to it."
Chase Parker is another student volunteer who is an intern for SAAF. He said that he was inspired to volunteer for the charity in part because of the Sex, Health and AIDS class he took last year.
"I'm absolutely fascinated with HIV," said Parker, a sophomore majoring in molecular and cellular biology. "After I took that class, I wanted to do something to help out as much as I could."
Other students, like Miranda Reynolds, were drawn to volunteer because of familial connections to the event.
"My mom volunteers with (SAAF), and I decided to help with her this year," said Reynolds, an undeclared sophomore. "I attended the festival last year, but this is the first time I've worked at it, so I asked some of my friends to come with me."
Reynolds and her four friends sold drink tickets and served hors d'oeuvres to guests throughout the evening.
---


Write a Letter to the Editor