Monday, November 21, 2005


Maui invitational: Cats say aloha to Kansas
UA begins season tonight in Hawaii
There may not be a better place to open any season than Hawaii, where the No. 10 Arizona men's basketball team will begin its 2005-06 campaign tonight at 7 when it faces Kansas in the first round of the EA Sports Maui Invitational.
Arizona left Tucson on Saturday morning at 6, after defeating Team Georgia 104-81 in its final exhibition game Wednesday night, and will make its fourth appearance in the preseason tournament, having won it upon its last entry in 2000. [Read article]



No. 1 Pilots crash hopes of soccer's postseason
Portland, Ore. - Whoever said that any team can beat any other team on any given day probably has not watched the 2005 edition of the Portland women's soccer team.
Bolstered by a raucous sold-out crowd of 4,892 at Merlo Field, the undefeated No. 1 Pilots overwhelmed Arizona in every phase of the game Friday night, winning 4-0.
"Not to be master of the obvious, but that's a very, very good team," said Arizona head coach Dan Tobias. "As a soccer coach at the Division I level for 13 years, that certainly has to be, in my opinion, one of the best teams I've had the honor of competing against." [Read article]




Volleyball snipes ranked USC, UCLA at home
Seniors break records, say goodbye to fans
The No. 6 Arizona volleyball team furthered its case for hosting the first and second rounds of the NCAA Tournament, defeating two top 20 opponents in its final home matches of the regular season over the weekend.
Arizona (20-5, 12-4 Pacific 10 Conference) continued its dominance over No. 16 UCLA (17-9, 9-7) Saturday, as the Wildcats swept the Bruins in three games (30-26, 30-27, 30-19). [Read article]



Top Cats
The best of the weekend's athletic performances
Volleyball: Kim Glass
No. 86 - Outside hitter Became first Wildcat and fourth Pac-10 player to record more than 2,000 kills in sweep of UCLA
Women's Basketball: Joy Hollingsworth
No. 45 - Junior guard Scored 21 points in her first regular-season game with Arizona in win over Loyola Marymount [Read article]



Women's hoops: Women's hoops wins season opener
UA beats Loyola Marymount after slow first half
After a slow start for both squads, full-court pressure from the Arizona women's basketball team wore down Loyola Marymount in the Wildcats' 74-66, season-opening win Friday night in McKale Center.
Arizona (1-0) and the Lions (0-1) combined for 30 turnovers and 20 fouls in an ugly first half delayed about an hour because of the late finish of Arizona volleyball's five set victory over Southern California. [Read article]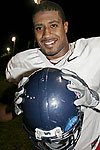 Saying goodbye: Patience pays off as Harris becomes hot commodity
Editor's Note: This is the first in a series of articles this week putting the spotlight on the Arizona football team's departing seniors.
Patience is a virtue.
For Arizona senior running back Gilbert Harris, that virtue has paid off in his final season in a Wildcat uniform in the form of accolades from NFL scouts.
A variety of national publications have tagged Harris as one of the nation's top-five fullback prospects for April's NFL draft. [Read article]




Icecats split series against Sooners
Offense hot, cold over weekend
The Arizona men's club ice hockey team split its series with No. 19 Oklahoma over the weekend in the Tucson Convention Center Arena.
The No. 13 Icecats lost 5-1 Saturday night after fighting their way to a 6-3 win on Friday.
"It was the four-letter word: life," Arizona head coach Leo Golembiewski said. "(Saturday)'s game was just life. You throw everything at them, and you've got nothing to show for it." [Read article]



Cheseret leads Cats in NCAA title hunt
After dominating the NCAA Western Regional in Palo Alto, Calif., on Nov. 12, the Arizona men's cross country team has a bigger prize in sight with the 10,000-meter NCAA Championship race today in Terre Haute, Ind.
"We'll definitely try to do our best," said Arizona head coach James Li. "If we indeed win, great, but if we don't, then we really have achieved a lot this season as a team."
With four runners finishing in the top six places in Palo Alto, Arizona earned an automatic berth to today's race by easily snapping Stanford's run of 10 consecutive Western Regional titles. [Read article]



Swim and dive remains undefeated against SoCal teams
The Arizona swimming and diving teams kept their undefeated record intact over the weekend, defeating USC, UCLA and UC-Santa Barbara and taking hold of a few top national times along the way.
Senior Lyndon Ferns won the 50-yard freestyle with the second fastest time in the nation (19.89) Friday and posted the top time in the nation in the 100y freestyle (43.83).
The Arizona men's and women's teams both won eight events against USC on Friday, starting with the 400y medley relay. [Read article]



Men's golf tees off for last time today
All good swings must come to an end.
The Arizona men's golf team's fall season concludes today and tomorrow at the Western Refining All-America Golf Classic in El Paso, Texas.
Only the top 50 golfers in the country were invited to participate, and junior Henry Liaw is the lone Wildcat in the 54-hole, three-round event.
The three-time All-America selection said he's not too worried about the competition. [Read article]




showAds('bigbutton')?>







showAds('mediumbutton')?>

showAds('wildlinks')?>