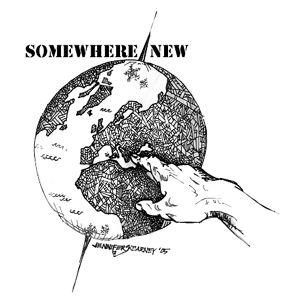 Illustration by Jennifer Kearney

By Matt Stone
Arizona Daily Wildcat
Monday, November 21, 2005
Print this


If there's one thing Natalie Koch can attest to, it's that things just aren't the same anymore in Aralsk, Kazakhstan. The Dartmouth College geography senior recently returned from a three-week stint in Central Asia to study the effects of poor water-management policies.

Indeed, policies have been inept at best, and destructive at worst: Aralsk, once a booming fishing hub of the Aral Sea, now sits 75 miles from its coast. The desiccation of the Aral Sea has been one of the great environmental catastrophes of our time, and it has been relatively undocumented in the mainstream media - but try to explain that to the dejected fisherman sitting on a bench in Aralsk, watching a swath of desert where a body of water, his former livelihood, once stood.

If there's one thing Rebecca Furst-Nichols can attest to, it's that some things just shouldn't get in the way of a good education. The UA international studies junior is currently traipsing around Dar Es Salaam, Tanzania, after deciding that learning Swahili in Kampala, Uganda, an English-speaking country, just wasn't going to cut it.

She flew into Kampala with nothing more than a verbal agreement from a university there, no housing arranged, no classes arranged - nothing - and soon realized that Uganda wasn't the place to be. After three weeks, she had the fortitude to pack up, jump on a bus and go blind to Tanzania, hoping to find a better education there. She did.

If there's one thing Jason Yan can attest to, it's that one need not leave the country to find the primitive. The UA microbiology senior spent the summer on the banks of the Chandalar River in Alaska, somewhere north of the Arctic Circle. No roads to the base camp - the only way in and out was by boat, several hours one-way to a two-store Athabascan village.

It was a one-shower summer for Yan. He was there to collect data on fish populations in the river and to test a new type of sonar developed for the military. But the work didn't stop his research team from celebrating the Fourth of July by loading their shotguns with explosive shells and firing multiple salvos over the Chandalar - yes, that is what you'd call "poor man's fireworks."

If there's one thing Megan McGinnity can attest to, it's that one can often learn more from misinformation than from the truth. The Arizona State University political science junior is currently going at it blind, this time in Iasi, Romania.

She arrived to her dormitory in Iasi to find a single university employee and no students. She was then told that the university wanted her high school diploma instead of her university transcripts to enroll, a request that was not clear before she arrived.

But despite her petite stature, McGinnity is not one to feel hopeless: She jumped on a train for Oradea, Romania, to visit some friends, and then returned to Iasi to duke it out with the university administration, and consequently, the Romanian Ministry of Education. It was a fight she was happy to take on.

If there's one thing Cherilyn Gain can attest to, it's that local knowledge is simply the best knowledge. The UA senior majoring in English spent the summer in Orvieto, Italy, honing her writing and sampling gelato in her free time. On the island of Capri, she struck up a friendship with a local who showed her and some friends how to access an underground lagoon without paying the exorbitant 40-euro tourist fee.

It required a tricky hike down a back trail and a swim in the Mediterranean Sea, but they managed to reach the azure lagoon before any tourists arrived. When the boatmen finally showed up, their surprise was met by a mirthful "buongiorno."

If there's one thing that all these folks can attest to, it's that meaningful education does not end with the doors of the lecture hall. Education is about more than book smarts or street smarts. It's about people smarts. It's about understanding people and how they interrelate, and there is nowhere better to do that than in a place far different from the mythical "home."

If there's one thing that all these folks can attest to, it's that a dream can be realized - and it often starts with closing one's eyes, pointing at a map, and typing in some unpronounceable country name with the words "study abroad" in a Google search field.

That's where heart and mind kick in tandem.
---
Matt Stone is a junior majoring in international studies and economics. He is studying this semester in Irkutsk, Russia - Central Siberia. He can be reached at letters@wildcat.arizona.edu.


Write a Letter to the Editor