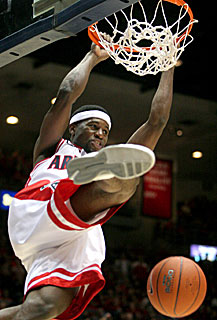 Claire C. Laurence/Arizona Daily Wildcat

Senior guard Hassan Adams swings off a dunk during No. 9 Arizona's 81-51 victory over unranked Virginia. Adams contributed 12 of his 14 points during a 29-1 first-half run that blew open an otherwise close game against the Cavaliers.

By Roman Veytsman
Arizona Daily Wildcat
Monday, November 28, 2005
Print this


Hoops evens record in McKale opener after rough road trip

If the No. 9 Arizona men's basketball team was expecting to cure its shooting woes last night against Virginia, it needed to wait 20 minutes before the nets in McKale Center started heating up.

The Wildcats defeated Virginia 81-51 last night, avenging a loss Arizona took against the Cavaliers at University Hall last season, thanks largely to a dominant second half in which the team shot 66.7 percent from the field.

Arizona (2-2) started out sluggish in the first half, shooting just 37.1 percent, including an abysmal 1-of-13 from behind the 3-point line.

Wildcats head coach Lute Olson said he told players at halftime to take better shots and not rely on 3-pointers to stay ahead after forging a 31-28 advantage at the break.

"We were 1-of-13 from 3, settling for those shots, and the second half we were 5-of-6 from (3) because we picked out shots," Olson said.

Seniors Hassan Adams and Chris Rodgers combined to shoot 4-of-17 from the field in the first half for a combined nine points, with neither hitting a jumper from beyond the arc.

But if the first half was the Wildcats' Mr. Hyde, the second half was the team's Dr. Jekyll.

Wildcat stat leaders

Points
Chris Rodgers, 20

Rebounds
Hassan Adams, 9 (3 offens.)

Assists
Mustafa Shakur, 7

Arizona went on a 29-1 run beginning with 3:13 left in the first half that included 12 points by Adams and eight by Rodgers.

"We got into a rhythm, a groove right there, and it came from that defensive end, getting steals and really getting after it," said junior point guard Mustafa Shakur, who finished with 14 points, six rebounds and seven assists. "We got some easy buckets, some dunks and everybody was energized and pumped up."

Virginia (2-1) didn't score a field goal in the second half until the 12:30 mark, and the Wildcats held the Cavaliers to just 23 points over the last 20 minutes.

"The key to the game for us was on the defensive end," Olson said. "We held them without a field goal for (more than) 10 minutes. It was a combination of the guards doing a good job and the big guys doing a good job when they try to come off the on-ball screens."

Rodgers led all Wildcats with 20 points, hitting three straight 3-pointers after starting out 0-of-5 in the first half.

"My teammates did a good job of finding me," he said. "I really didn't get hot the first half but just stayed with my shot, and in the second half I got some shots to fall."

The Wildcats were without junior forward Ivan Radenovic, who was out of the game with a 24-hour virus, Olson said.

In Radenovic's absence, senior Isaiah Fox led the team with six first-half points, hitting all three of his shot attempts.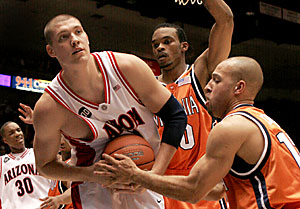 Jacob Konst/Arizona Daily Wildcat
Forward Bret Brielmaier looks to pass the ball around Virginia during the second half of the Wildcats 81-51 victory over unranked Virginia.
"Isaiah played really well the first half," Olson said. "He went down on the floor after balls, and defensively he did a really good job for us. We can use that senior leadership."
Fox said it was good to get a positive game under his belt after what he felt were bad performances during last week's EA Sports Maui Invitational in Lahaina, Hawaii.
"It's good to come out here tonight and play however many minutes I played," he said. "It felt much better being on the court than watching it from the sidelines."
Olson said he was content with the team's defensive pressure, citing Virginia's 24 turnovers as evidence.
"That will be the key to this team, without a doubt," Olson said.
Virginia's Sean Singletary led all scorers with 24 points, but Olson said he was happy with the defensive pressure on junior J.R. Reynolds (seven points, 3-of-14 shooting), who entered averaging 18.5 points per game.
"Chris Rodgers did an unbelievable job on Reynolds," Olson said. "(Reynolds) is an awfully good player so for him to go 3-of-14, it shows how tough our guards were defensively."
Olson said the team would practice only today, Wednesday and Friday this week before flying out to play Houston on Saturday.
Mixed results in Maui
The Wildcats finished 1-2 in the Maui Invitational, following a solid first-round win with consecutive defeats to finish in fourth place out of eight teams.
Arizona defeated Kansas 61-49 on Monday, but fell to No. 3 Connecticut 79-70 Tuesday and 74-71 in overtime to No. 12 Michigan State on Wednesday.


Write a Letter to the Editor