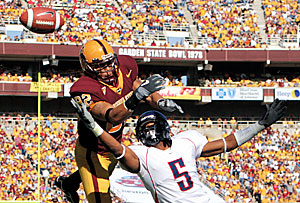 Jacob Konst/Arizona Daily Wildcat

Cornerback Antoine Cason attempts to intercept a pass intended for ASU halfback-tight end Jamaal Lewis during the Wildcats' bid to retain the Territorial Cup. ASU took the game and the cup.

By Charles Renning
Arizona Daily Wildcat
Monday, November 28, 2005
Print this


Critical Wildcat injuries key second-half meltdown

All seemed well for the Arizona football team going into halftime at Sun Devil Stadium on Friday.

The Wildcats were up 12 points on archrival ASU, senior running back Mike Bell had gained 100 yards on the ground, freshman quarterback Willie Tuitama was in control of the offense, and the Arizona defense had held the Sun Devils to just an opening-drive field goal.

The second half was a completely different story, as ASU used a late surge and some key Arizona injuries to beat the Wildcats 23-20 on a field goal in the closing seconds in Tempe.

"I thought their level of play really improved as the game went on," said Arizona head coach Mike Stoops. "We just lost our rhythm, and they started to put a lot of pressure on us, and we didn't handle it very well. Our young guys need to learn how to finish and play four quarters."

"It was kind of caving in on us," said sophomore linebacker Spencer Larsen, who finished the game with six tackles, one for a loss. "They had so much momentum, and we just needed a big play that didn't happen."

It kind of hit me by surprise, it happened so fast.
- Mike Bell, senior running back

Sun Devil kicker Jesse Ainsworth booted a 20-yard field goal with nine seconds left to earn ASU the Territorial Cup and a berth in the Insight Bowl in Phoenix.
The field goal put a cap on an 18-0 second-half run by the Sun Devils (6-5, 4-4 Pacific 10 Conference) and left Arizona (3-8, 2-6) with the same number of wins as a season ago.
"We were up one minute ... the next thing you know, they're going in for the winning score," Bell said. "It kind of hit me by surprise, it happened so fast."
The Wildcats built up a 20-5 lead midway through the third quarter, but lost Bell to a thigh injury - and, along with him, much of their offensive production.
"He was really running the ball well and was on his way to having a big day, but they made a great hit on him, and that was the end of that," Stoops said.
Bell finished the day with 117 yards on 27 carries, ending the season with a career-high 952 yards.
With just under eight minutes to play in the game and Arizona clinging to a 20-12 lead, ASU receiver Terry Richardson, who was named the game's Most Valuable Player, returned a Nick Folk punt 71 yards for a score. The Sun Devils converted the subsequent two-point attempt to tie the score.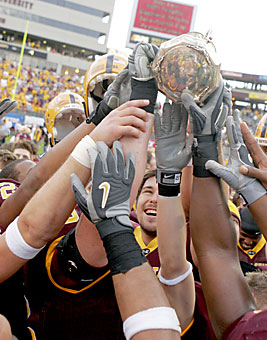 Jacob Konst/Arizona Daily Wildcat
ASU players celebrate with the Territorial Cup following the Wildcats' 23-20 loss to the Sun Devils on Friday at Sun Devil Stadium in Tempe.
"He did a great job. They block (that play) well," Stoops said of Richardson's return. "We just didn't react very well to it."
Without the services of Tuitama, who was lost early in the fourth with a shoulder injury, backup quarterback Richard Kovalcheck couldn't get the Arizona offense going again.
The redshirt sophomore was without three of the team's top offensive players, with Bell sidelined with a thigh bruise, senior running back Gilbert Harris limited with a groin injury and leading receiver Mike Thomas being used as just a decoy with a broken hand.
"That's football," said Stoops of the injuries. "The next guy comes in and plays, and that's how it is."
ASU came into the contest ranked third in the nation in total offense, but the Wildcats were able to hold them to just 150 yards in the first half.
Behind running back Rudy Burgess, who ran for 43 yards on seven carries on the game-winning drive, the Sun Devils were able to get on track in the second half.
"I think we controlled the run until that point," Stoops said. "That hurt us, their ability to run the counter. That got us off-balanced."
The Sun Devils outscored Arizona 18-3 in the second half, outgaining them 219 yards to 148.
"I know that we had a lot of opportunities, and we could have done a lot more in the second half," Tuitama said. "That probably would have taken us to a victory."


Write a Letter to the Editor