Thursday, December 1, 2005


Freshmen growing up quickly
Njonkou, O'Neal likely out for rest of fall semester
Because the Arizona women's basketball team plans on playing a fast-paced style this season that features constant full-court pressure, its bench should play an important role in keeping the starters fresh and wearing out the opposition.
That burden will rest largely on the four members of the team's freshman class, all of whom will play important supporting roles for Arizona, said Wildcats head coach Joan Bonvicini. [Read article]



Commentary: Volleyball deserves home-court advantage
The Arizona volleyball team enters NCAA Tournament play this weekend with a program-best No. 4 seed, a five-match winning streak and a 14-4 conference record - including a season sweep of perennial power Stanford.
There's no reason the Wildcats should have been denied a chance to host the first and second rounds of the tournament in McKale Center, right?
Apparently ASU - and NAU, for that matter - didn't get the memo, leaving the Wildcats relegated to 19 degrees Fahrenheit of fun in snow-covered Salt Lake City. [Read article]




Houston trip a homecoming of sorts
McClellan, Onobun unlikely to play, but expect fan following
For sophomore guard Jawann McClellan, freshman forward Fendi Onobun and assistant coach Josh Pastner of the No. 15 Arizona men's basketball team, Saturday's game at Houston will be more than a meaningless nonconference matchup.
The Houston natives expect a strong crowd of family and friends in attendance at Hofheinz Pavilion, leaving other Wildcats with few options regarding the tickets allotted to them for road games, Arizona head coach Lute Olson said yesterday. [Read article]



On the air
A sampling of what's on today
TALK:
'NCAA FOOTBALL'
Hosts: Victoria Yarnish, Robyn McCarthy, Ken Bever - KAMP 1570/kamp.arizona.edu
NCAA FOOTBALL:
Akron vs. Northern Illinois
MAC Championship
ESPN 5:30 p.m.

W-HOOPS:

Texas vs. Tennessee

ESPN 5 p.m. [Read article]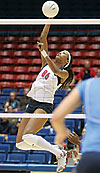 Cats' size boosts chances in Salt Lake City opener
Tourney pits UA against Aggies in first round
As the No. 6 Arizona volleyball team treks to Salt Lake City for the first and second rounds of the NCAA Tournament as a No. 4 seed, here's a breakdown of the Wildcats' three potential opponents.
Utah State Aggies
(tomorrow, 7 p.m.)
Location: Logan, Utah
Record: 21-12, 11-5 Western Athletic Conference
Breakdown: Senior opposite hitter Zuzana Cernianska and senior middle blocker Ingrid Roth were named to the All-WAC team. [Read article]



Swim and dive: Team eyes qualifying times in Texas trip
For the Arizona swim teams, this week's trip to Austin for the Texas Invitational, running today through Saturday, is not just for any regular meet.
It's the meet where the Wildcats get their first stab at qualifying for the NCAA Championships in March.
Action will run from 10 a.m. to 6 p.m. each day at Lee and Joe Jamail Texas Swimming Center.
With only two dual-meet victories under their belts so far in 2005, the No. 6 women's team and the No. 5 men's team are looking to post some marks that will carry them through to the end of the season despite what happens from here on out. [Read article]




showAds('bigbutton')?>







showAds('mediumbutton')?>

showAds('wildlinks')?>