Friday, December 2, 2005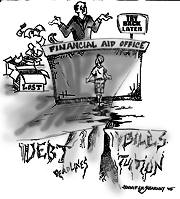 You see the people milling around, waiting impatiently. Some are shuffling their feet, others are checking their wallets; all are nervous. "Man, if I don't get this, I don't know what I am going to do," mumbles one guy to his line neighbor. "My friend just got his and he said it's awesome, but it took forever," whispers another guy.
Although this is eerily reminiscent of the droves of Xbox 360 fans clamoring at the doors of Best Buy, it is far from. This is the Office of Student Financial Aid, the Bermuda Triangle of grants and money. These murmurs bring to light the problems the financial aid office does not want to see. Maybe this is simply the case of the squeaky wheel, but on a campus of 35,000 people, the wheel squeaks quite audibly. [Read article]

·
The weekend started last night
·
Pass/fail: See if these ideas make the grade
·
Mailbag
Latest Issue: December 1, 2005
Latest Issue: November 29, 2005
Venerable Stones play to sold out crowd in Glendale
Rolling Stones fans young and old flocked to the Glendale Arena Sunday night to catch a glimpse of the venerable rock 'n' roll band as they made a stop in the Phoenix area on their A Bigger Bang World Tour.
The concert was to promote the band's newest album, A Bigger Bang, and Glendale was the 40th stop on the tour, which started earlier this year in New York City. The band has crisscrossed the country, stopping in cities like Portland, Ore., Los Angeles, San Francisco and Boston. Even Duke University was a stop on the tour. [Read article]

require('/home/webby/html/papers/98/polls/current.php')?>

showAds('bigbutton')?>







showAds('mediumbutton')?>


showAds('wildlinks')?>