Wednesday, December 7, 2005


Students reveal family secrets through art
We all have our own "skeletons in the closet," so to speak. As much as we try to avoid it, family dysfunction seems unavoidable, especially this time of year as we go home to spend the holidays with family members and remember the problems of our roots.
Some opt for therapy while others creatively express their dark pasts, which is what fine arts graduate students John Clarke and Celeste Trimble have done for their photo work exhibits. Both artists have examined their lineages to explore their own individual family disorders, and they present those issues through photography and sculpture. [Read article]




Tucson and campus calendar
Today
The Moment of Truth Project - Fine arts and media arts students got together to make a "culture jamming" project; rewriting and recreating magazine advertisements to show the hidden message behind them. All day. Free. Student Union Memorial Center, Social Justice Leadership Center, Room 404
Congress Libre - I think this means "free" in Spanish. And that's what's so great about it. See a bunch of local bands like Mercury's Revenge for the whopping price of nothing. 9 p.m. Free. Club Congress, 311 E. Congress St. [Read article]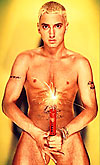 Scatter shot
A collection of views, gripes and nonsense
Gripe of the week
The iPod commercials aren't technically bad, but they are repeated far past the saturation point. U2 promoted its new album by giving everyone a taste of "Vertigo" - which had the special quality of being annoying after the very first listen. Now it's Eminem's turn to cross-promote iPod and his greatest hits CD, Curtain Call: The Hits. As if everyone in the world hasn't heard "Lose Yourself" enough, Eminem sings it for us one more time while he jumps around in a more urban iPod world, full of graffiti and paint blots. This is a meaningless commercial for iPod because all the white kids in the suburbs that like Eminem already have iPods. I hope Apple doesn't think it's going to get any street cred for this. [Read article]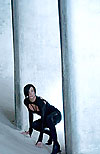 What was Charlize thinking?
In 2011, a disease will strike the world, killing 99 percent of the population. A vaccine is produced and only 5 million people are saved. The 5 million remaining group together to live in a utopian city called Bregna. That gives you six more years to party it up before you get sucked into the confusing world of "Aeon Flux."
The movie then skips ahead about 400 years. The regime that's been ruling this perfect society has turned evil, kidnapping random citizens who are never to be seen again. A secret society, the Monicans, has decided to go against this awful group and overthrow them. Aeon Flux (Charlize Theron), the top assassin, is sent to knock off the leader, Trevor Goodchild (Marton Csokas). It gets a little personal when the government kills her sister. [Read article]




Student purse maker is having a ball
A woman's purse is sacred ground. It is something that others are not usually allowed to see the inside of; its contents are far too personal, too mysterious, too female. And if a woman's purse is a reflection of her personality, as is often argued, then why do so many women have the same purse?
Nicole Ball, a first-year pharmacy student, makes and sells specialized purses for those women (and men?) who want a more personal approach to accessorizing. [Read article]



You always remember your first time: This is it
When I was 18, I stood in front of my graduating class drunk, and I delivered a speech about how I didn't know what I was going to do with my life and I hoped I never would. I voiced all the requisite clichés and rattled on about paths and choices. I'd probably seen one too many teen movies, but I wholeheartedly believed every word I was saying. Years later, I still do.
Classes are almost over for the semester; in fact, odds are that as you're reading this, I'm already done with classes forever. Sure, I have a few papers left to turn in, but for the first time, I don't have to come back to school ever again. I'll never have to sit through another boring lecture, nor will I have to stay up late finishing a paper. Like the song says, "school's out forever." [Read article]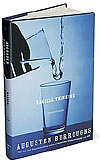 Strange but true
"Magical Thinking: True Stories" should not be on bookstore shelves as a stand-alone piece of literature. It should instead be sold as volume III in the boxed set of Augusten Burroughs' life. I say this not because it is a bad book, but because if it is read without "Dry" and "Running With Scissors," Burroughs' first two autobiographical books, the reader will feel as if he or she has entered the theater halfway through the movie. Burroughs constantly references incidents and characters from his childhood, and the reader is expected to understand. The book is enjoyable on its own, but is probably more meaningful when combined with some prior knowledge of Burroughs' life. [Read article]



Give in and see
'Forbidden Cinema'
In slang, 86 is the term that waitresses use to nix an order, or that jazz musicians to scrap a bad sound recording.
For students in media arts 313: Experimental Production this term, referring to cancellation or deletion was the perfect metaphor for their adventures in the film world.
The invisible and on-the-margins genre of experimental film is celebrated in "Cinema 86: A Night of Forbidden Cinema," a presentation of media arts 313 students' final projects. [Read article]




2005: A film odyssey
2005 was not a good year for Hollywood. Sure, there were a couple of worthwhile blockbusters (literally a couple), but for the most part films flopped. We saw the rise then fall then rise again of the comic book genre (rise: "Batman Begins" and "Sin City;" fall: "Fantastic Four" and "Elektra"), classic literature being turned into mediocre films ("Hitchhiker's Guide to the Galaxy" and "War of the Worlds") and really shitty remakes and sequels (too many to list). [Read article]




The top 10 (kind of)albums of the year
Good music is like good food - you have to develop your palette. As my colleague Nate Buchik recently pointed out, the majority of people are content indulging in the likes of Ashlee Simpson (grilled cheese on moldy white bread), Korn (pasta with ketchup) and Nickelback (day-old glazed donuts). Clearly, anyone with more than an elementary school appetite wouldn't eat that shit, so why listen to it? [Read article]



Commentary: Top celebrity moments of 2005
Americans have an unhealthy obsession with national celebrities. Some point to the fact that America has no titled nobility, therefore elevating pop-culture icons to take the place of missing aristocracy.
Others contend that average citizens live lives of quiet desperation, and the only release from the drudgery is to escape and read about people who are much better looking and probably superlative lovers to boot. [Read article]



Top 10 - indie rock '05
Bands make great albums. Albums have great songs. Truly special, however, are moments. Here are the moments that made my year in indie rock.
10. The Mountain Goats, The Sunset Tree, "Broom People" - 2:08-2:15
John Danielle's nasally voice unexpectedly peaks at this moment, right before the song's outro, creating a moment of sheer power in a mellow song that began building from the first notes. While he performed a similar stunt at 1:50 on Tallahassee's "No Children," I'm certainly open to a repeat. [Read article]



Top 10 things to do instead of studying for finals
10 Surf facebook.com and once again determine the fact that you have better taste in music, movies, television and friends than almost everyone else who goes to the UA.
9 Wander to your fridge/pantry every 15 minutes, open the door and expect to see something different than the previous 18 times you did it.
8 Watch seasons one and two of "Arrested Development" on DVD, then weep softly that the best show on television got the plug pulled. Then laugh at unintentional television/plug pun. [Read article]




showAds('bigbutton')?>







showAds('mediumbutton')?>

showAds('wildlinks')?>