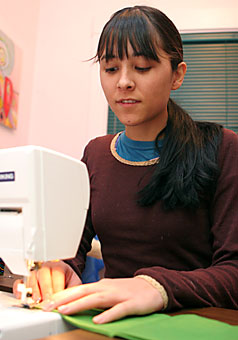 Josh Fields/Arizona Daily Wildcat

First-year pharmacy student Nicole Ball constructs and sells purses, a venture she says she hopes will make her a millionaire so she won't have to finish school.

By Celeste Meiffren
Arizona Daily Wildcat
Wednesday, December 7, 2005
Print this


A woman's purse is sacred ground. It is something that others are not usually allowed to see the inside of; its contents are far too personal, too mysterious, too female. And if a woman's purse is a reflection of her personality, as is often argued, then why do so many women have the same purse?

Nicole Ball, a first-year pharmacy student, makes and sells specialized purses for those women (and men?) who want a more personal approach to accessorizing.

Ball began making purses a little less than a year ago, after her purse broke one day. As she was making herself a new purse, she became flooded with ideas for more.

"Usually, I pick a fabric that I like, and I have a little book where I write down ideas when I get them. So I just take something out of that and then I sew it all together," Ball said.

"I took a home ec class in seventh grade and learned how to sew and I loved it. I sewed all my presents for all of my family members, like this pillow and blanket kind of thing. It was really cool. So, I gave that away for Christmas one year and stopped sewing until about a year ago," Ball said.

So now, after making purses for all of her friends and family, Ball wants to expand her talents into a business.

"Well, I've been trying to start a Web site, but I don't know how to make one yet. I'm learning. So right now its just word of mouth, friends of friends, that kind of thing, people in my classes," Ball said. "I have a domain name and everything. I just need to build the site now. It's under construction."

Hopefully I can just become a millionaire doing this ... that's my ultimate goal
- Nicole Ballpharmacy student

Ball said that she would like to be able to make some money on the side, but that she does it more for the fun of it, not for the profit.
"Hopefully I can just become a millionaire doing this so I won't have to finish school. I guess that's my ultimate goal," Ball said.
With the holidays coming up, Ball said she expects several orders and is looking forward to being able to make people their own individualized bags.
"What's cool is that you can add on things. I've got buttons, snaps and zippers. I can do any kind of shaped pockets you need. Like if you need a cell phone pocket, iPod pocket, pen holder, cigarette holder with a little thing for a lighter, I can sew them on," Ball said.
With purses ranging from $15 to $40, Ball has something for everyone. And if a woman's purse is really a reflection of her personality, then Ball's purses are truly the incarnation of this.
"Everyone has the same purse. I don't like designer purses because everyone has the same purse and they are overpriced. And when you can get a specialized, unique, individualized, one-of-a-kind purse, why would you want to have the same purse as everyone else?" Ball said.
You can reach Ball by sending her an e-mail her at jayne@curiousjayne.com.


Write a Letter to the Editor