Updated Monday, Jan. 9, 2006
The Arizona Daily Wildcat is not publishing from Dec. 8 to Jan. 10 because students are home for winter break. The Wildcat will be updating this Web site periodically throughout the break with UA sports and other news. The Wildcat will resume publishing Jan. 11.
·
Wildcats charge over Trojans
·
Wildcats lose conference lead in loss to Bruins
·
Arizona upsets No.7 Washington in 2 OT thriller
·
Wildcats topple Sam Houston State, dropped from top-25
·
Wildcats blow out Utah on the road, gain 3rd consecutive win

Senior guard Hassan Adams will start Saturday at Utah after being arrested early Sunday morning and charged with disorderly conduct at a West Side apartment complex.
Adams, Arizona's leading scorer and team captain, was cited and released for disturbing the peace after he became non-compliant and refused to leave the area at the Exchange Luxury Student Apartments, 2800 W. Broadway, where Adams lives, according to a police report. [Read article]

·
Rodgers denies being late
·
Basketball notes: McClellan to miss another seven games; Verdejo transfer could hurt UA
·
Arizona struggles early, shines late in two home wins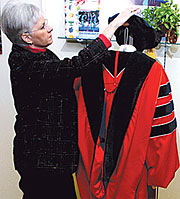 Graduation ceremony undergoes only 'tweaking'
This month's commencement ceremony will have few changes compared to last year, which was marked by a heated battle to keep the December ceremony from being canceled, officials said.
Planning has gone much more smoothly this year, unlike last year's roller coaster ride that left organizers scrambling at the last minute to get information about the event out to the public, said Alexis Hernandez, associate dean of students and chairman of the commencement operations team. [Read article]

·
ASUA can't confirm suspected meetings
·
Impeachment hearing delayed
·
'Rwanda' inspiration to lecture
·
Reading day, aka dead day, not spent reading
·
Early-warning advising system slow to catch on
·
Ready for round two
·
Quick Hits
·
Fast Facts


The silent issue of sobriety
Used by the British to combat loneliness and malaria in the tropics, alcohol is simultaneously man's best friend and his greatest bane.
At the UA, it is hopelessly ingrained in the college mentality. Alcohol abuse is quickly becoming our issue of the year - an issue more celebrated than shunned. In fact, the per capita consumption of alcohol at the UA is enough to fuel the Coors Light train three times over. [Read article]

·
Pass/fail: See what made the grade this semester
·
Mailbag
Latest Issue: December 7, 2005
Latest Issue: December 6, 2005
Fire twirling, sword swallowing on club's weekly agenda
There's a little pyromaniac in all of us. Blame our caveman instincts, but our fascination with this force of nature - both destructive and life-sustaining - starts with childhood, where experiments with a Zippo lighter and your mother's industrial-sized can of hairspray gives you hours of fun and, if you're lucky, a brand-new set of eyebrows. [Read article]

require('/home/webby/html/papers/98/polls/current.php')?>

showAds('bigbutton')?>







showAds('mediumbutton')?>


Wednesday
---
5:30 pm
UATV: Daily Dose
6 pm
UATV: Wildcast
6:30 pm
The DRSC
7 pm
Kinsey
9:30 pm
The Girl Next Door
12 am
Pushing Tin

Show Schedule
Interview Archives

showAds('wildlinks')?>