Friday, January 13, 2006


Comeback curbed in Corvallis
Down by 22, Cats tie but fall short late
Oregon State 75 • Arizona 65
After a terrible first half in which the No. 24 Arizona men's basketball team could not score and did not defend, the Wildcats (10-5, 3-2 Pacific 10 Conference) clawed their way back but could not finish off the comeback in a 75-65 loss. [Read article]




Cats drop fifth straight game
Mandy Close ensured that the game wouldn't be just that as she exploded for 18 second-half points, and the Oregon State Beavers downed the Arizona women's basketball team 64-48 on their home court last night.
The senior guard, who added six rebounds and three assists to her game-changing effort, poured in a career-high 24 points for the Beavers (7-6, 1-4 Pacific-10 Conference), who snapped a 16-game Pac-10 winless streak dating to Jan. 13, 2005. It was also the Beavers first win over Arizona in six games. [Read article]



Former Wyoming head coach to assist at UA
The Arizona football program hired a new tight ends coach yesterday to fill the only vacancy on its staff, Arizona head coach Mike Stoops announced yesterday.
Dana Dimel, the former head coach for Wyoming and Houston, steps into the position vacated when Josh Heupel returned to Oklahoma to become the quarterbacks coach under Sooners head coach Bob Stoops.
Dimel, 43, worked with Mike Stoops at Kansas State when both served as assistants for Bill Snyder from 1992 to 1996. [Read article]



Gymcats hope youth brings championships
A delicate balancing act of uneven ages, vaulting hopes, exercises in patience and all-around good times await the 14-member squad of the 2006 Arizona women's gymnastics team.
"This is a totally new era," said Arizona gymnastics head coach Bill Ryden.
Only seven veterans remain from the squad that finished in fourth place at the South-Central regional competition last year.
With seven freshmen coming into the season, Ryden knows it will take time before his younger girls adapt to dealing with the fears and pressures that come with being on a college gymnastics team. [Read article]




Icecats, Billikens puck with each other
The Arizona men's club hockey team looks to rebound from a frustrating winter break this weekend against a team it swept earlier this season at the University of St. Louis.
The puck drops at 7:30 tonight and tomorrow night in the Tucson Convention Center Arena.
After the Icecats (10-8) lost three close games in the ASU Desert Classic last weekend, Arizona head coach Leo Golembiewski is still optimistic about his team's chances in its first home game in over a month. [Read article]




No. 13 Gymcats look for luck
Gymnastics faces Alabama, Penn State in dual meet
After balancing out a fifth-place finish in Cancun last week, the Arizona gymnastics team vaulted up four places in the rankings to lucky No. 13.
The ladies hope to continue to move up as they take on No. 5 Alabama and Penn State at 5 p.m. tomorrow in State College, Penn.
Led by senior captain Erin Muirhead, the Gymcats hope to continuously get better as the season progresses. [Read article]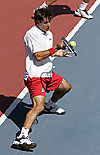 Tennis duo to compete at invitational
Two players on the Arizona men's tennis team have been selected to play in this year's National Collegiate Tennis Classic in Palm Springs, Calif., beginning today.
Senior Roger Matalonga and sophomore Bruno Alcala will compete in both singles and doubles play at the first major invitational tournament of the season, which runs today through Sunday.
"This is a huge accomplishment for these guys," said assistant coach Cory Hubbard. [Read article]




showAds('bigbutton')?>







showAds('mediumbutton')?>

showAds('wildlinks')?>