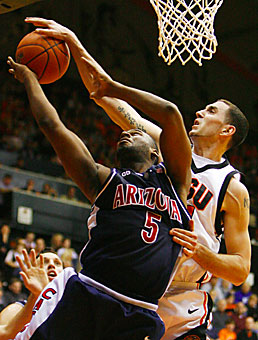 Chris Coduto/Arizona Daily Wildcat

Arizona's Jawaan McClellan has the ball knocked away by Oregon State's Nick DeWitz during the second half of Arizona's game against Oregon State yesterday at Gill Coliseum in Corvallis, Ore.

By Roman Veytsman
Arizona Daily Wildcat
Friday, January 13, 2006
Print this


Down by 22, Cats tie but fall short late

Oregon State 75 • Arizona 65

After a terrible first half in which the No. 24 Arizona men's basketball team could not score and did not defend, the Wildcats (10-5, 3-2 Pacific 10 Conference) clawed their way back but could not finish off the comeback in a 75-65 loss.

After the Wildcats rallied from a 22-point deficit to tie the score at 63, Beavers sophomore forward Marcel Jones scored twice and fellow sophomore forward Sasa Cuic hit a jumper, giving Oregon State (9-6, 2-2) a 69-63 lead that put the Wildcats away in front of 8,258 in Corvallis, Ore., some of whom stormed the court at the buzzer.

Arizona native and senior forward Nick DeWitz scored 20 points for the Beavers, who shot over 61 percent for the game and 75 percent on 3-pointers. Senior guard Chris Stephens and Cuic each had 13 points for the Beavers as well.

"It was very frustrating plus we exhausted so much energy coming back, we had no energy in the tank," said Arizona assistant coach Josh Pastner. "Obviously you have to give all the credit to Oregon State. They played great."

Senior guard Hassan Adams scored 22 points on 11-of-21 shooting from the field and junior point guard Mustafa Shakur added 17 points and six rebounds in the losing effort.

"We had a great comeback, utilized our speed and athleticism, got some steals (and) turnovers (and) we defended," Pastner said. "We got a really good spark off the bench. Mustafa and Hassan played really well to charge the comeback."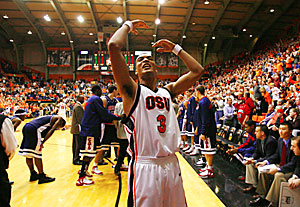 Chris Coduto/Arizona Daily Wildcat
Oregon State sophomore forward Marcel Jones fires up an already raucous Gill Coliseum crowd on hand to watch the Beavers down the Wildcats 75-65 last night.
Shakur went on two separate five-point spurts by himself, making a layup and drawing a foul in each burst after which he showed his emotion by waving his fist in the air.
"We really played off of him," Pastner said. "He played great, he defended, he rebounded, and he put the ball in the basket. He had a good game tonight."
Sophomore guard Jawann McClellan, academically eligible for the first time this season, came in even earlier than expected, with just 2:12 gone in the first half. On his first attempt, a wide open 3-pointer from the top of the key, McClellan didn't come close, throwing up a flat shot that bounced off of the left rim.
He would redeem himself though, scoring Arizona's first two points with more than five minutes already passed in the first half. McClellan scored 8 points on 3-of-8 shooting from the field.
"Because of the lineups, we had to play him more minutes than we expected, but he was solid," Pastner said. "Pre-game he had a little jitters, and he was up and down as usual in a first game situation, but we expect to play well Saturday."
Oregon State scored the first 14 points of the game, capped by a DeWitz 3-pointer with a second left on the shot clock. The Beavers poured it on the Wildcats, jumping out to a 41-16 lead, but before halftime, Arizona cut the gap to 17.
Ivan Radenovic made three free throws and Shakur made a 3-pointer as the Wildcats went on a 6-0 run to make the halftime deficit 41-24.
Late in the game with Arizona attempting to foul Oregon State in order to send them to the line, Arizona head coach Lute Olson walked onto the court accidentally bumping into McClellan who was catching a pass, and drawing a technical foul from the official with whom he was arguing in the process.
Arizona wore blue uniforms for the first time this season on the road, but Pastner would not say why that decision was made.
The Wildcats play at Oregon, who beat Arizona State 67-53 last night, tomorrow at 4 p.m. on FSN.


Write a Letter to the Editor