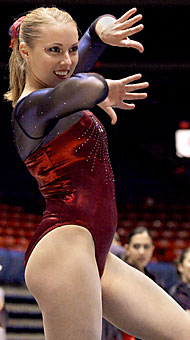 Jacob Konst/Arizona Daily Wildcat

Canada native Aubrey Taylor competed for the Gymcats in all 13 meets of 2005. Taylor, a junior, placed fifth in the uneven bars last year at the NCAA South Regional on April 9.

By Dmitry Rashnitsov
Arizona Daily Wildcat
Friday, January 13, 2006
Print this


A delicate balancing act of uneven ages, vaulting hopes, exercises in patience and all-around good times await the 14-member squad of the 2006 Arizona women's gymnastics team.

"This is a totally new era," said Arizona gymnastics head coach Bill Ryden.

Only seven veterans remain from the squad that finished in fourth place at the South-Central regional competition last year.

With seven freshmen coming into the season, Ryden knows it will take time before his younger girls adapt to dealing with the fears and pressures that come with being on a college gymnastics team.

"It's very team-oriented," Ryden said. "There's a lot more pressure than just being on a club team."

The team sends six players each in four different events. The top five scores in each event are then calculated to produce the team score and determine winners for each meet.

Team captain and lone senior Erin Muirhead leads the squad. She will compete in the all-around event for the first time in her college career while still performing in her normal events of floor exercise and balance beam.

Muirhead, who has been involved in gymnastics for over 19 years, said being the elder statesman on the team will not be an easy task.

"Being the only senior in the gym is sometimes very nerve-racking," she said. "I feel a lot of pressure that I put on myself to be a good role model in and out of the gym so that girls can look up to me."

In addition to being a role model to younger teammates, Muirhead said she will help them adjust to college life.

"As team captain, I'm the person that's really supposed to keep things organized," she said. "I've really tried to help make the transition into college easier for the seven new freshmen."

Meeting the team

For the vault competition, the team will look to sophomores Karin Wurm and Rachelle Silburg.

Wurm, who has been doing gymnastics for over 13 years, would like to see the team finish in the nation's top 10 and qualify for nationals.
Evan Caravelli/Arizona Daily Wildcat
Erin Muirhead, Arizona's only senior gymnast, leads the Wildcats into action in 2006. Muirhead is coming off an injury that ended her 2005 season after only five events.
Coach Ryden said he believes that in terms of depth, this event is the weakest, but that he can see some of the freshmen stepping up and doing more in their performances.
On the uneven bars, junior Aubrey Taylor and sophomore Danielle Hicks lead the way. Hicks scored a season-best 9.800 last year and averaged 9.713 for the season.
In the beam, Hicks and Wurm will have their balancing skills put to the test, and must perform as they practice for the team to have any success.
Taylor, Hicks and Muirhead will push the Wildcats in the floor exercise. All three established career highs of 9.800 or higher last year in this event and will also be asked to provide their skills for the all-around performance.
"January will be the break-in month to learn what this team can really do," Ryden said.
Supporting each other
As with most sports, solid team chemistry will go a long way, but in gymnastics, it can make or break the entire squad.
"Supporting each other during competition is what keeps us a team," Muirhead said. "College gymnastics is all about the team and no longer just the individual girl, so when someone is competing it's like we're all out there with her."
After she is done with her routines, Muirhead said she loves the feeling of running back to her team and getting high-fives from everyone down the line.
Not only does the team support each other during the meets, but they stay close even when they are outside the gym.
"I think our team is one of the closest in the country," Wurm said. "We all get along and every single one of us is friends with everyone else. There are no outsiders and I think this is one of the reasons Arizona has one of the best gymnastics programs in the country."
Wurm said support is key in ensuring overall excellent performances.
"Without your team to cheer you on and back you up, there's nothing for you to fall back on," she said. "Having such a close-knit team helps us to cheer each other on and no one ever feels alone while out on the floor."
Notes
Injuries
Freshman Sarah Parsons had ankle surgery three months ago and has recently started to get full strength back in her legs. She is currently competing but will be worked back into competitions slowly.
Freshman Sarah Specht is out indefinitely with a dislocated elbow.
Rankings
The team began with a preseason No. 17 ranking, but has since moved up to No. 13 after a score of 192.925 in Cancun on Jan. 6.
For the first six meets of the season, the national rankings are based on average scores of those meets. Afterward, the top three away-meet scores are added to the top three other scores. Then the highest of those are dropped and the rest are averaged together to determine the national rankings.
Winning and losing the actual meets is not as important as the final score on the scoreboard.
"You can win a meet and go down in the rankings or finish fourth or fifth and go up," said Ryden.

I feel a lot of pressure that I put on myself to be a good role model in and out of the gym so that girls can look up to me.

- Erin Muirhead,

senior captain


Write a Letter to the Editor