Friday, January 13, 2006

AP program turns freshmen into instant sophomores
When Andrew Stevens enrolled at the UA as a mechanical engineering freshman, he didn't sign up for the usually required Calculus 1 and 2 math courses. "Passing the AP Calculus BC test in high school got me out of the boring freshman math classes in college," he said. Stevens isn't the only person taking advantage of the program.
It used to be that only the smart kids - and generally only the smart Caucasian kids - in American high schools participated in Advanced Placement programs, but a recent article in The New York Times suggests that the College Board, the organization that administers AP tests across the country, has increased its efforts in recent years to market the program to minorities and students in urban schools. [Read article]



Sex crime punishment unacceptable
Every two and a half minutes, a sexual predator steals a person's innocence. Whether they are rapists, assaulters or child molesters, sex offenders are ruining the lives of others, and although their crimes are among the most horrific and traumatic known to man, the punishment they receive is nowhere near as severe as it should be.
Just recently, a Vermont judge sentenced a sex offender to a mere 60 days in jail. Mind you, this was not a case of indecent exposure or some less horrendous offense; the convicted man confessed to raping a girl repeatedly for four years, starting when she was only 6 years old. [Read article]



PASS/FAIL: See if these ideas make the grade
Students: hands to yourselves, please
What do you get when you cross a kindergarten playground and the set of "American Gladiators"?
Art, according to the UA. A good time, according to UA students.
From the see-sawish contraption that adorned the lawn in front of Old Main last year to the globular "Garden Snare" installed in front of Manzanita Hall last week, large-scale campus installations are paying the price for overlooking the campus aesthetic and overestimating the maturity of college students. [Read article]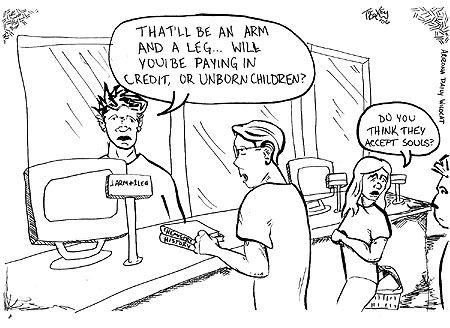 showAds('bigbutton')?>







showAds('mediumbutton')?>

showAds('wildlinks')?>