Friday, September 24, 2004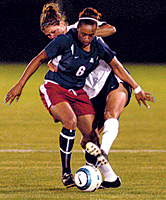 Soccer slides by BYU, 1-0
UA one win from tying season victory record
Freshman midfielder Amanda Urtuzuastegui's first collegiate goal gave the Arizona soccer team a 1-0 win over Brigham Young in Provo, Utah, last night, continuing the Wildcats' remarkable turnaround from 2003.
For the Wildcats (7-1), No. 11 West Virginia was the only team of national prominence they had faced this season before BYU, which reached the Elite Eight of the NCAA Women's College Cup last year. Arizona lost that game to West Virginia 2-0, but beat a tough BYU team on the road for what is arguably its biggest win thus far in 2004. [Read article]



Volleyball swept by Cardinal to open Pac-10
Despite playing with a complete lineup for the first time all season - including junior outside hitter Kim Glass and sophomore outside hitter Meghan Cumpston - the No. 14 Arizona volleyball team (8-3, 0-1) fell to No. 12 Stanford in three games (30-23, 30-26, 30-22) in its Pacific 10 Conference opener last night in Stanford, Calif.
The Cardinal's sweep improved the team to 8-2 on the year, as they out-blocked the Wildcats 9-6 and held Arizona to a season-low hitting percentage of .117. [Read article]



Women's tennis: Three Wildcats to compete at Cissie Leary
Three Wildcats will open their women's tennis seasons across the country at the Cissie Leary Invitational.
Senior Kelly Perry, junior Iza Ferreira and freshman Camelia Todorova will compete in the Philadelphia tournament tomorrow through Sunday, hosted by the University of Pennsylvania.
Arizona will match up against many unfamiliar foes while competing as the only school from the West Coast. The field is set including Harvard, Columbia, Princeton, Penn State, Temple, Maryland, Cleveland State and Pennsylvania. [Read article]



Cross Country opening 'super meet' could be crucial
The UA men's and women's cross country teams converge with dozens of squads from around the nation tomorrow in Minneapolis for one of the most important meets of the season.
The 2004 Roy Griak Invitational is the first in a series of "super meets," that will help shape the field for this year's NCAA Championships.
Head coach James Li said a strong race this weekend will have an important role in the Wildcats' ability to qualify for Nationals. [Read article]




Hungry Cats open Pac-10 play
Wildcats try to regroup after heartbreak defeat
After a setback like last week's 9-7 loss to nationally-ranked Wisconsin at home, it wouldn't be a surprise if the Arizona football team just rolled over this week at home against Washington State.
Somebody forgot to tell the Wildcats, however, who claim to be as ready as ever for their Pac-10 opener tomorrow at Arizona Stadium.
"It's definitely a different season," said junior safety and co-captain Darrell Brooks of tomorrow's matchup, set to be aired on ABC with a 12:30 p.m. kickoff scheduled. "(The Pacific 10 Conference schedule) is our second season, and that's when it all counts. No matter how well or how poorly you do in your non-conference schedule, whatever conference you're in that's when it counts." [Read article]




Opponent analysis: QB issues drown out WSU's defensive strength
Washington State may not be the same team across the board as it's been during its three consecutive 10-win seasons, but when it comes to holding opponents from gaining yards and keeping teams out of the end zone, it's been business and usual.
WSU (2-1, 0-0 Pac-10) enters its Pacific 10 Conference opener with the Wildcats Saturday at 12:30 p.m. with the No. 17 defense in Division IA football. [Read article]




Backfield battlers
Arizona backups Gilbert Harris and Chris Henry form tailback triumvirate with starter Mike Bell
All-Pac-10 running back Mike Bell is undoubtedly the star of the Arizona football running attack. But while nobody within the program is ready to refute Bell's status as the team's offensive catalyst just yet, it's been Bell's understudies that have stolen the show as of late.
Gilbert Harris, a 6-foot-2, 223-pound back from San Antonio did all but supplant Bell as the team's top back over the past two weeks. He led the Wildcats in rushing both games, including gaining 56 yards on 11 carries during Arizona's heartbreaking 9-7 loss to No. 20 Wisconsin last weekend. [Read article]



Point system installed for Zona Zoo members
New incentive program honors dedicated fans
ASUA will hold its first Zona Zoo football tailgate of the season tomorrow at 11 a.m. on the UA Mall, where it will introduce a new point-earning plan to encourage students to participate and support UA athletic activities.
The Associated Students of the University of Arizona will begin tallying points at tomorrow's event for its "Bear Down Bandits" spirit program, said ASUA Spirit Director Amber Harryman. Students with the top 100 point totals at the end of the school year will become charter members of the "Bear Down Bandits," earning them a T-shirt with each member's name on the back and an invitation to a recognition banquet, complete with UA athletes and coaches in attendance. [Read article]




showAds('bigbutton')?>





showAds('mediumbutton')?>

showAds('wildlinks')?>