Thursday, January 19, 2006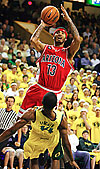 Rodgers, over and out
Source: Shouting match preceded guard's dismissal
Senior guard Chris Rodgers was released from the team by Arizona men's basketball head coach Lute Olson last night after "long and serious deliberation."
According to sources close to the team, Rodgers and Olson had a verbal altercation in practice Monday.
The senior, who graduated in December with a degree in psychology, started 13 games for Arizona and averaged 10.8 points and 2.8 rebounds a game for the 10-6 Wildcats. [Read article]



Cardinal loom for Wildcats
As the men's basketball team takes the floor against Stanford at 8:30 tonight in McKale Center, they will be trying to do more than pick up a win.
They will be looking to stop a conference skid that hasn't been seen in more than two decades in the contest televised by FSN.
That task will be made harder by the dismissal of senior guard Chris Rodgers from the team yesterday, which Arizona men's basketball head coach Lute Olson announced in a statement. [Read article]




Diminished rivals square off
Make no mistake about it; Stanford has been Arizona's biggest basketball rival over the last decade.
ASU simply has not had a team of a caliber to compete with the Wildcats, boasting more teams that weren't much more than one-man shows, with the likes of Mario Bennett, Eddie House and Ike Diogu.
UCLA, long-since removed from its days of domination under legendary head coach John Wooden, fell off the map at times with a few disappointing seasons, but the Cardinal has remained the consistent archenemy for Arizona (10-6, 3-3 Pacific 10 Conference) all along. [Read article]




'Roller coaster' continues in Bay Area
It's not often a team goes through the highs and lows the Arizona women's basketball team has been through this season. And the ride has certainly not leveled out during the past few days.
When the Wildcats (6-11, 2-5 Pacific 10 Conference) face Pac-10 leading Stanford (11-4, 6-1) tonight at 7 in Palo Alto, Calif., it will mark the first game in 2006 in which they bring in momentum, having beaten Oregon 81-72 Saturday to snap a five-game skid. [Read article]




Freshman O'Neal off to a good start
Her list of accolades reads like a wish list.
A 2005 EA Sports All-American? Check.
Seattle Times first team all-state, junior and senior years? Sure, why not?
Named the Washington state player of the year by Gatorade, the Seattle Post-Intelligencer and Student Sports? Two of each, please.
The reigning Associated Press Washington Player of the Year? Go ahead and add one of those too.
With all of her talent, it's easier to look for something Malia O'Neal of the Arizona women's basketball team doesn't have rather than explain just how good she has the potential to be. [Read article]



Schwartz on Sports: Court rushing needs to stop
Every road loss feels like "Groundhog Day" for the Arizona men's basketball team.
You know the drill by now.
The Wildcats dig themselves a nice big hole, launch a furious comeback and end up frustratingly short at the buzzer of a road game they should have won.
While you're staring in shock at your television after watching Arizona lose to unranked Houston or Oregon State or Oregon, those teams' fans are partying at center court, acting like their squad just punched a ticket to the Final Four. [Read article]




showAds('bigbutton')?>







showAds('mediumbutton')?>

showAds('wildlinks')?>