Friday, January 20, 2006

Rodgers talks to the Wildcat: Senior says he's optimistic about returning, and that dismissal 'will define' him.
Senior guard Chris Rodgers said Friday that he believes he'll be back playing basketball for Arizona head coach Lute Olson this season, despite being dismissed by the coach earlier in the week.
A return looked all but bleak, but after the Wildcat's win over Stanford Thursday, Olson said the door was open slightly for Rodgers to return.
In an interview with the Arizona Daily Wildcat Friday, Rodgers said that many hold misconceptions about who he is and that he is determined to come back and win with the men's basketball team. [Read article]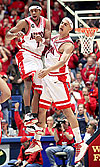 Wildcats claw past Cardinal
Men demolish Stanford with overtime burst to avoid three-game skid
Stanford almost added insult to injury, but the Arizona men's basketball escaped McKale Center with a 90-81 victory in overtime.
On a day when the Wildcats were without two of their best perimeter players - with sophomore guard Jawann McClellan finished for the season with a torn ligament in his left wrist and Chris Rodgers kicked off the team for disciplinary reasons - Arizona played one of their best games of the season. [Read article]



Women take drubbing by Stanford
Wildcats sink to 2-7 in conference play after 31-point loss to Cardinal
There's a reason the Stanford women's basketball team leads the Pacific 10 Conference. Arizona found it out last night, falling 82-51 to the Cardinal on their home court.
While the Wildcats (6-12, 2-6 Pac-10) never really got started, No. 14 Stanford (12-4, 7-1) jumped out to an early 20-3 lead and held a commanding 43-28 advantage at the break. [Read article]




Cancer beaten, Sitton eyes return to prominence
On field or off, fight never ends for coach
To celebrate his 51st birthday Tuesday afternoon, Dave Sitton went back to work.
More specifically, the head coach of the Arizona men's club rugby team joined his players on their usual makeshift pitch at the south end of the Rincon Vista field.
It's a place where in the past 12 months, Sitton has fought mediocrity on the field and mortality off of it. [Read article]




Different day, different team
It was a different team that took the floor in McKale Center last night in the Arizona uniforms, plain and simple.
They played better set defense, shot better from outside and made better decisions about when and where they were going to take it the basket. The team made shots when it mattered, got the production from certain ghosts in the lineup and even had a louder crowd with the beginning of school and the resurgence of the Zona Zoo. [Read article]




Weekend sports preview
Icecats look to tune up before brutal road trip
The No. 12 Arizona club hockey team (12-8) hosts Colorado State (9-3-1) for a two-game series this weekend in the Tucson Convention Center Arena.
The puck drops at 7:30 both tonight and tomorrow night.
Although Colorado State is a Division II American Collegiate Hockey Association team, it's had Division I talent for years, said Arizona head coach Leo Golembiewski, adding that the Rams are usually better than about 60 percent of the Division I teams. [Read article]




showAds('bigbutton')?>







showAds('mediumbutton')?>

showAds('wildlinks')?>