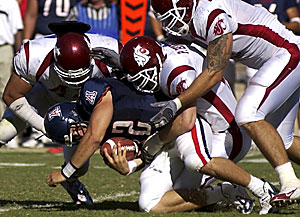 SAUL LOEB/Arizona Daily Wildcat

Arizona sophomore quarterback Kris Heavner is sacked during Washington State's 20-19 victory Saturday over the Wildcats, one of two sacks on the day for the Cougar defense. Heavner finished the day completing 15-of-31 passes for 183 yards and two touchdowns.

By Charles Renning
Arizona Daily Wildcat
Monday, September 27, 2004
Print this


Wazzu capitalizes on mishap for 20-19 win

The Arizona football team lost a game this year because they turned the ball over four times. The Wildcats also lost a game on a failed field goal in the closing seconds. With 90 seconds left Saturday and Arizona leading 19-14, the Wildcats were just a first down away from starting the Pacific 10 Conference 1-0.

However, the Wildcats found a way to lose, as has been customary with the struggling Arizona program over the past couple seasons.

Arizona lost 20-19 to Washington State Saturday in both teams' Pac-10 opener at Arizona Stadium in front of a crowd of 43,579.

Leading 19-14 with 1:31 left in the contest, junior running back Gilbert Harris took a first-down handoff up the middle and was separated from the ball by Washington State linebacker Pat Bennett. The ball shot up in the air and was grabbed by Cougar safety Husain Abdullah. Abdullah then fumbled and Scott Davis picked up the loose ball and ran it in for the apparent touchdown. However, the play was blown dead and the Cougars retained possession at the UA 28.

Three plays later WSU quarterback Josh Swogger found Jason Hill in the corner of the end zone for the eventual winning score. Washington State went for two on the following conversion but was unsuccessful.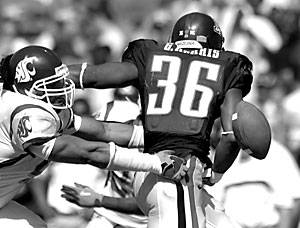 CHRIS CODUTO/Arizona Daily Wildcat
Arizona running back Gilbert Harris commits his first of two fumbles in the Wildcats' 20-19 loss Saturday to Washington State.
"A lot of things happen at the end of game," head coach Mike Stoops said. "The ball just didn't bounce our way. Sometimes you get the breaks, sometimes you don't."
The loss was the Wildcats' second straight late-game defeat in as many weeks. With less than a minute to play and trailing 9-7 to Wisconsin Sept. 18 at home, UA sophomore kicker Nicholas Folk missed a 47-yard field goal to take the lead.
Stoops said the team had talked about kneeling down and trying to run out the clock against Washington State, but said the time had to be under 70 seconds for the Wildcats to be able to not run any more plays.
"I thought we did everything right," said Stoops about the game management at the end of the contest.
"It's just part of the game. You think you have a game won, but it's never over," he said.
The Wildcats and Cougars combined for nine fumbles in all, with six being recovered by the opposing team as turnovers.
Junior linebacker Sean Jones recovered two Cougar fumbles, forced one and added 10 tackles in anchoring the Wildcats defense.
Junior safety Darrell Brooks added a team high 11 tackles, including two for a loss, a pass break-up and Arizona's lone sack.
The Pac-10 season has been unkind to the Wildcats over the past three years. Arizona has won just four conference games and just one at home since 2000.
"We've been losing since I've been here and I'm sick of it," said junior running back Mike Bell, who finished with 66 yards on 22 carries.
Although just five points separates the Wildcats from being 3-1 as opposed to 1-3, no one on the team is satisfied with losing close games.
"We can't take this as a good thing, because it's not good - we lost," Bell said.
Arizona took its final lead in the fourth quarter when sophomore quarterback Kris Heavner hooked up with classmate Syndric Steptoe for the pair's second touchdown of the game, the first coming in the first half on a 47-yard connection.
Folk added a pair of field goals from 23 and 37 yards out.
The Wildcats are off next weekend and will travel to UCLA Oct. 9.
"In football, you have to have a short memory," said senior defensive tackle Carlos Williams. "You've got to be able to come back on Monday and forget about what happened Saturday."
"I wish it was two weeks feeling good about what we did" Stoops said. "We're going to be successful. When? I don't know, but we will be."


Write a Letter to the Editor