By Nate Buchik
Arizona Daily Wildcat
Thursday, September 30, 2004
Print this


In criticizing religion, politics and violence, Green Day try their hand at the game so many punk bands have played this year.

Their method, however, is quite ambitious. Instead of name dropping like most of the "Rock Against Bush" team, Green Day try to tell a grander narrative about Jesus of Suburbia, a disillusioned kid raised in a 7-Eleven.

The specifics of the story aren't quite clear. I've gathered there are a couple other characters - St. Jimmy and whatshername - but most of the lyrics are general statements that don't really tell a story so much as they ... rhyme.

Lead singer/guitarist/lyricist Billie Joe Armstrong mostly criticizes the state of America, and the larger problems we have as a country, with a lot of focus on the non-separation of church and state.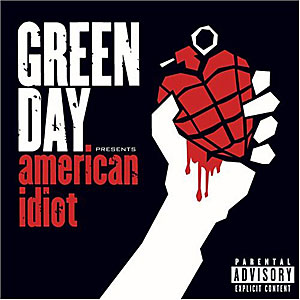 Green Day - American Idiot
7 out of 10
But this is not a spoken word manifesto, so Green Day, of course, must rock. And they, once again, get the most from their power chords. Musicianship always takes a backseat to simplistic songwriting, which isn't a bad thing on an album like this.
The first half of the record ("American Idiot" through "Give Me Novocain") may not take any risks, but it's an easy and satisfying 20-minute trip. The vocals fluctuate between soft and loud as the guitars progress from naked strumming to buzzing reverb to create pop-rock anthems, devoid of any notable drumming or unique bass lines.
The first of two nine-minute tracks, "Jesus of Suburbia," is Green Day at its best. Sing-along silly with enough force to make you feel a little edgy, it's made of five different and equally catchy sections of epicness.
Production value isn't always a concern in punk music, but it's an important part of the album. Green Day's sound is no longer raw and hasn't been for a long time. They're refined, sophisticated pop artists with the ability to add depth to each track, while keeping the heart of the song intact. The background vocals are the easiest example, enhancing and not distracting from Armstrong's lead.
Not that the album doesn't have its weaknesses. "Extraordinary Girl" is anything but, meandering along, repetitious and uninteresting. For the most part, the last third of the album falls flat, as the same tricks and hooks get tired. Listeners will need a shot in the arm to stay awake through the second nine-minute track, "Homecoming."
While "Jesus" maintains a connected feeling throughout the song, "Homecoming" couldn't be more disjointed, the worst coming when they bring out a section reminiscent of the new Rancid record. (Editor's note: The new Rancid record is awful.)
While the idea behind the album is a definite change for Green Day, much of the experimentation of their youth is over. These are not young punks anymore, something many fans didn't realize until the overtly commercial Warning.
It wasn't that that album was too much pop, because Green Day has always been fairly bubblegum. It was the lack of substance from the supposedly grown-up boys.
On American Idiot, they write about something that matters to them. And this time, it's not masturbation or weed.


Write a Letter to the Editor