Friday, October 1, 2004


Emotions flare at debate watch
Students clad in red, white and blue T-shirts announcing their political affiliation crammed into a small lecture hall last night to watch the first presidential debate of 2004.
More than 200 people attended the debate-watch party, sponsored by UA's political science honorary Pi Sigma Alpha.
Emotions during the 90-minute debate flared as students from all sides of the political spectrum cheered and jeered the candidates. [Read article]



UMC-area spa busted for possible prostitution
A man and two women working in a massage parlor near University Medical Center were arrested yesterday in what police say may lead to a prostitution bust.
John Lavoie, 48, who was operating Angel's Heaven Relaxation Spa, 1740 E. Lester St., was arrested for operating a massage parlor without a license, employing unlicensed massage therapists and for driving on a suspended license.
Two women who worked at the spa were also arrested. One was arrested for committing acts of prostitution and being an unlicensed massage therapist. The other was arrested for being an unlicensed massage therapist. [Read article]




Regents approve $489M budget for UA
TEMPE - The Arizona Board of Regents approved state university budget requests yesterday, which could grant the UA a total of $489 million for the 2006 fiscal year.
Dick Roberts, UA budget director, said this year the UA is focused on increasing the percentage of graduates and reducing the average years it takes students to graduate.
The state universities requested two graduation incentives at $2.9 million, which would reward $100,000 for every 0.5 percent increase in graduates and $100,000 for every 0.1 percent decrease in the average graduation time. [Read article]



Minorities now more than 25 percent of UA
For the first time in UA history, minority students make up more than 25 percent of the total student population, according to fall 2004 enrollment data.
Hispanics make up the largest minority group at the school, with 5,024 students, or 13 percent of the total student population.
Overall enrollment at the UA held steady for fall 2004, falling 151 students shy of last year's record number of students, according data from the Office of Enrollment Research. [Read article]



Moore will be paid $27,500 for appearance at McKale
Michael Moore, director of the highest grossing documentary of all time, "Fahrenheit 9/11," is set to receive $27,500 for his appearance at McKale Center Oct. 11, ASUA officials said.
The Associated Students of the University of Arizona is presenting Moore as a part of their ongoing effort to promote civic engagement among students, and tickets are being sold in the Arizona Bookstores for $5.
Fernando Ascencio, ASUA Speakers Board director, said ASUA originally offered Moore $40,000, his normal rate, to appear at the UA, but according to Moore's contract, hosts can only charge $5 per ticket. [Read article]



UA conference to address global AIDS challenges
Students concerned about the international AIDS epidemic will converge on the UA next weekend for a conference meant to increase activism and awareness.
The UA chapter of the Student Global AIDS Campaign will host a free conference Oct. 9 and 10 for students from throughout Tucson and Arizona who want to become involved in the struggle to fight HIV/AIDS around the world.
"The mission of our organization is to make student voices heard in the government," said Lauren Giesecke, an active member of the UA chapter and the national organization. [Read article]



Word up
Quotes from this week's news
"(I was) wondering where were the minds of the upper level administration with all their so-called 'focus on excellence,' to eliminate a long-standing program pre-eminent for its excellence in innovative student-oriented teaching."
- Bella Vivante, associate professor in the humanities program, on the proposal to eliminate the humanities program.
"Not dissimilar to the way Mattel made Christie and Curtis as corollaries to Barbie and Ken, the new BET programs seem to be just dipped in chocolate."
- Beretta Smith-Shomade, media arts professor, in her lecture titled, "And for the Girl Backstage, Never Mind Who You Thought I Was. I'm Rick James B***h!" [Read article]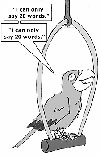 Fast facts
Things you always never wanted to know
The Escorial, a famous palace located outside Madrid, Spain, was built in the shape of a gridiron because St. Lawrence, to whom the palace was dedicated, was roasted on one.
The French painter Rosa Bonheur (1822-1899) kept lions, monkeys, gazelles, chamois, goats and deer in her backyard. She maintained this menagerie so she could study animal anatomy first-hand. [Read article]




showAds('bigbutton')?>





showAds('mediumbutton')?>

showAds('wildlinks')?>