Friday, October 1, 2004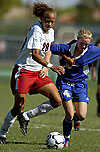 Soccer aims for record win
Nelson back in lineup for surging Wildcats
As much as the offensive output of the Arizona soccer team has improved this year, one of its most potent offensive weapons hasn't played a minute this season - until today.
With a new single-season wins record on the line, junior forward Kelly Nelson returns to the Wildcat lineup for today's 7 p.m. game against No. 25 Pepperdine (6-2-1) at Murphey Stadium, beginning a four-game homestand for the Wildcats. Nelson missed the first nine games of the season while finishing rehab from offseason ankle surgery. She led the team in scoring as a freshman in 2002, with 13 goals, a school record. [Read article]




Volleyball looks to even Pac-10 mark
Bruins, Trojans visit McKale this weekend
History has a tendency to repeat itself.
The same can be said about the No. 17 Arizona volleyball team, which for the second consecutive year has opened Pacific 10 Conference play with an 0-2 record.
The Wildcats (8-4, 0-2) hope to rewrite the past as they continue the Pac-10 season against No. 10 UCLA tonight at 7 at McKale Center. Arizona will host reigning NCAA champion and No. 3 Southern California tomorrow at 7 p.m. [Read article]



Commentary: Plenty of UA ties in baseball's playoff run
So your favorite Major League Baseball team is out of the playoff hunt. Whether it was the Florida Marlins, who were knocked out in the final month of the season, or the Arizona Diamondbacks, who haven't played a meaningful game since the All-Star Break, chances are you need a team to rout for when the Divisional Series start Tuesday.
Instead of just picking a team that you think has the best shot of snagging the World Series bling, latch on to a former Wildcat, because this year's playoffs have the potential to be loaded with people who've graced this Tucson campus. [Read article]



Women's tennis jumps coasts for Cal Nike Invitational in Berkeley
The UA women's tennis team goes coast to coast this week, traveling to Berkeley, Calif., for the Cal Nike Invitational today through Sunday, after spending last weekend in Philadelphia for the Cissie Leary Invitational.
Fresh off their eastern road trip, freshman Camelia Todorova and junior Iza Ferreira will join fellow junior Stephanie Balzert at the Hellman Tennis Center on California's Berkeley campus. [Read article]



Women's golf tees it up at Mason Rudolph
The Arizona women's golf team tees it up this morning in a tournament that has been their home away from home for the past three years.
This will be the third year in a row the Wildcats travel to Nashville, Tenn., to play in the Mason Rudolph Championship on a course all the UA players have seen in the past.
Head coach Greg Allen said despite a disappointing 15th-place finish in last week's Fall Preview, the team is coming into this week with a lot of confidence. [Read article]




showAds('bigbutton')?>





showAds('mediumbutton')?>

showAds('wildlinks')?>