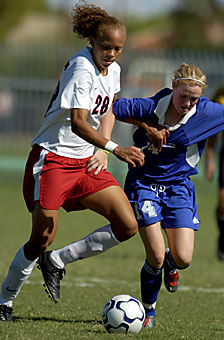 CHRIS CODUTO/Arizona Daily Wildcat

UA senior defender Lindsey Peeples, left, tries to take the ball away from an opposing player during a Wildcat home victory earlier this season at Murphey Stadium.

By Amanda Branam
Arizona Daily Wildcat
Friday, October 1, 2004
Print this


Nelson back in lineup for surging Wildcats

As much as the offensive output of the Arizona soccer team has improved this year, one of its most potent offensive weapons hasn't played a minute this season - until today.

With a new single-season wins record on the line, junior forward Kelly Nelson returns to the Wildcat lineup for today's 7 p.m. game against No. 25 Pepperdine (6-2-1) at Murphey Stadium, beginning a four-game homestand for the Wildcats. Nelson missed the first nine games of the season while finishing rehab from offseason ankle surgery. She led the team in scoring as a freshman in 2002, with 13 goals, a school record.

Nelson said she was cleared last week before the team's trip to Utah, where they defeated Brigham Young 1-0 and Weber State 2-1, but the coaches decided to postpone her return one more week. Her first full practice was Tuesday.

Cats go for the record
Arizona Wildcats

vs.

Pepperdine Waves
Today
7 p.m.
---
Murphey Stadium
"I am excited," said Nelson, who expects to play 20-30 minutes tonight. "We are on the verge of doing a lot of exciting things."
The Waves rattled off their first seven games of the season without a loss - six wins and one tie - but as of late have struggled, especially against Pacific 10 Conference teams. Pepperdine has played California, Washington State, UCLA and Arizona State to a 1-1-2 record, with its only win against a Pac-10 team coming Sunday, a 2-1 win over ASU.
Defensively, the Waves return three of four starters and recorded shutouts in six straight games before giving up a goal to Washington State in a 1-0 loss. Their other loss of the season was a 1-0 loss to No. 9 UCLA. Junior goalkeeper Anna Picarelli's 0.33 goals-against average is fourth best nationally.
"Pepperdine is going to be a great team," Nelson said. "They have a lot of good players; they play a lot of possessive soccer. That will be a good quality win if we can take care of business."
After posting an 8-1 record and getting a big win over BYU on the road, the Wildcats are starting to turn some heads. They received votes last week in the Soccer Buzz regional rankings, and this week are ranked No. 15 in the Western Region.
Arizona is also on a four-game win streak that began after its 2-0 loss to a ranked West Virginia team. Since the loss, the Wildcats have scored 11 goals while giving up just two.
The Wildcats will face Colorado College (5-3-1) Sunday at 1 p.m. The Tigers' season started with a three-game losing streak, but they have not lost since then with five wins and one tie.
If the Wildcats win one of their two final non-conference games this weekend, they will be the most successful team in UA soccer's 10-year history. The UA's most successful season came in 1997, when the team had eight wins. The team is excited about the prospect of breaking that record this weekend, junior midfielder Jennifer Klein said, but they don't want to put too much focus on it.
"That is a very big plus (breaking the record), but we're trying not to let ourselves get, you know, wrapped up in that. Just take it game by game. It'd be awesome, if and when we accomplish it, but we want to just focus on our performance and our preparation," she said.
However, the importance of it is not lost on anyone.
"I know for my class, and I think pretty much everyone else who has come here to this program has kind of been with the thought, with the idea, with the dream of changing it and of having a winning team," Nelson said. "We are one win away from having the best school record, and we're three wins away from having a winning record. And we can do it - it's very, very possible and very, very likely."


Write a Letter to the Editor