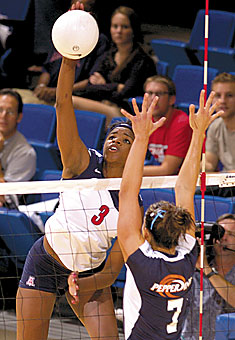 CHRIS CODUTO/Arizona Daily Wildcat

Arizona junior outside hitter Jennifer Abernathy spikes the ball during the Wildcats home victory over Pepperdine earlier this season at McKale Center. Abernathy and the Wildcats open their Pac-10 home slate at 7 p.m. today against UCLA.

By Lindsey Frazier
Arizona Daily Wildcat
Friday, October 1, 2004
Print this


Bruins, Trojans visit McKale this weekend

History has a tendency to repeat itself.

The same can be said about the No. 17 Arizona volleyball team, which for the second consecutive year has opened Pacific 10 Conference play with an 0-2 record.

The Wildcats (8-4, 0-2) hope to rewrite the past as they continue the Pac-10 season against No. 10 UCLA tonight at 7 at McKale Center. Arizona will host reigning NCAA champion and No. 3 Southern California tomorrow at 7 p.m.

In 2003, the Wildcats dropped their first two games to Washington and Washington State before losing three more conference matches for the worst Pac-10 start in Arizona history. This season, the team fell to No. 11 Stanford and No. 12 California in its conference opener last weekend.

Pac-10 home opener
Arizona Wildcats

vs.

UCLA Bruins
Today
7 p.m.
---
McKale Stadium
"(UCLA and USC are) consistently two of the best programs in the country," said UA head coach Dave Rubio. "UCLA is a terrific team, coached by one of the legendary coaches of all time. I have great respect for his program. Obviously, USC is a two-time national champion, and they are preseason ranked No. 1. So it's going to be very competitive."
The Bruins (8-3, 1-1) began conference play last weekend with a four-game loss to Washington before sweeping Washington State. The team is led by Brittany Ringel and Brynn Murphy, who boast averages of 3.50 and 3.18 kills per game, respectively.
The Trojans (6-2, 1-1) swept Washington State last Friday before falling in a five-game loss to Washington on Saturday, ending the Huskies' 12-game losing streak to USC. Southern California has already weathered two losses in the early season, both coming at the hands of top 20 teams.
"It doesn't matter what (USC) did last year," said junior middle blocker Bre Ladd. "They're not the same team they were last year. They've already suffered some pretty devastating losses (this season). I don't look at them like as 'Oh my gosh, those are the reigning champions.' It shouldn't matter what jersey the other team is wearing. We have to go out there and we take care of our side of the net, and that's the most important thing going into this weekend."
Arizona is 14-42-1 in the all-time series against UCLA and is 8-17 at home. In their last meeting, on Nov. 6, the Wildcats walked away the victor in a three-game sweep at McKale Center.
The Trojans hold the Wildcats to an almost identical 15-42 all-time record. USC defeated Arizona 3-1 in its last meeting on Nov. 7.
"All you can do is move forward and look at the film and learn from mistakes," Rubio said of the team's early losses to Stanford and UCLA. "This is a very talented team. And the bottom line is that we'll be playing a lot better as each week passes on - when we get our lineup set."
The Wildcats team, which ranks 29th nationally with 2.91 blocks per game, hope the weekend homestand will help them recover some of their power.
"I don't think it's hard to regain the momentum because the excitement of playing at home in front of our home crowd," Ladd added. "We're going to be here in a comfortable environment."


Write a Letter to the Editor