Tuesday, October 5, 2004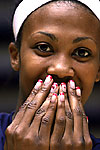 Volleyball: A Glass half full
Injuries, team struggles can't keep junior down
Sit down with UA volleyball All-American outside hitter Kim Glass, and a few things stand out above the rest.
At a listed 6-foot-2, Glass casts an imposing figure. Have her walk toward you, and it's easy to notice how modest the team may have been with the tape measure.
Glass punctuates every one of her sentences with a quick flash of the teeth and a short laugh, a combination that has helped her become an unquestioned leader for the UA volleyball team. [Read article]



Commentary: '04 already 'what could have been'
When the 2003-2004 sports season wound down this year, most Wildcats fans had to search far and wide to find a successful sports story.
Football? Softball? Women's basketball? The always-dependable men's basketball team?
Hell no, let's not even talk about it, ehhh and blah, respectively.
Wildcat football suffered its worst season off the field in a number of years.
The softball team was ranked No. 1 throughout the entire season before bowing out in the NCAA Regionals, losing to a rather mediocre Sooner team from Oklahoma. [Read article]




Football: Week off rejuvenates Wildcats
With a little more than one-third of the 2004 season in the books, the Arizona football team, coming off a much-needed bye week, has had enough drama to fill most teams' entire year.
Head coach Mike Stoops said the month of September was "emotional" and "stressful" for his players, and it was nice to have a weekend off to gather themselves together.
"I think it just wears on you as a team," he said. "(It) seems like every play in the game hangs in the balance. I thought it was draining on the staff and all of our players. The off-week came at a good time." [Read article]




showAds('bigbutton')?>





showAds('mediumbutton')?>

showAds('wildlinks')?>