Friday, October 8, 2004

Men's Hoops: Cats nab another marquee recruit
Point guard Prince set on playing for Olson next fall
"Point guard U" has lived up to its name once again, as the UA men's basketball team received a verbal commitment from marquee prospect J.P. Prince, a 6-foot-6 point guard set to enroll in fall 2005.
Hailing from Memphis, Tenn., Prince, a top-five point guard prospect by multiple recruiting boards, is yet another high profile player that head coach Lute Olson nabbed from out of state. [Read article]




UA soccer kicks off Pac-10 play with Wazzu
Tonight's match against Washington State will be a homecoming of sorts for Arizona soccer head coach Dan Tobias, even if he chooses not to acknowledge it.
2004 Season Opener
Arizona Wildcats

vs.

Washington State Cougars
Today
7 p.m.
---
Murphey Stadium

[Read article]




Volleyball heads to Oregon in search of first Pac-10 win
The No. 21 Arizona volleyball team will trek to Oregon this weekend in pursuit of its first conference victory of the season. The Wildcats (8-6, 0-4 Pacific 10 Conference) will battle Oregon State on Friday at 7 p.m. before heading to Eugene, Ore. to face Oregon on Saturday at 7 p.m.
"Oregon State has a very good team," said UA head coach Dave Rubio. "They return a lot of players. I'm so concerned about us and our side of the net. But I know that they are going to give us a good match." [Read article]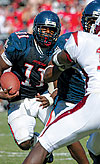 A win 'Bruin' for UA at UCLA?
Cats hit road for first time in 2004
It's been a year of firsts for UA head football coach Mike Stoops, and the Wildcats' matchup with UCLA this week is no exception.
The Wildcats (1-3, 0-1 Pacific 10 Conference) hit the road for the first time under Stoops when they head west to face the upstart Bruins (3-1, 1-0) at the Rose Bowl in Pasadena, Calif., at 3:30 p.m. tomorrow.
"When you go on the road your mental toughness and execution becomes paramount," Stoops said. "Not giving up big plays on defense and, offensively, not turning the ball over." [Read article]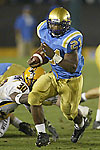 Opponent Analysis: Wildcats try to slow UCLA rushing attack
In the first four months of the season, the Arizona football team has yet to face a premier running back. That will all end this weekend when the Wildcats travel to Pasadena, Calif. to play NCAA all-purpose yardage leader Maurice Drew and University of California, Los Angeles at 3:30 p.m. on Saturday.
Drew is the Pacific 10 Conference rushing leader and ranks fourth in the nation with 167.2 yards per game. [Read article]




Run for the roses
Wildcats, still searching for first Rose Bowl game nod, visit vaunted stadium for first time since '99
When Mike Stoops accepted the head coaching position with the Arizona football team, taking a team to the Rose Bowl was among his highest priorities.
While he surely meant the prestigious Rose Bowl game, traditionally pitting the Pacific 10 Conference's top team against the best of the Big Ten Conference on New Year's Day, Stoops will get his first taste of the 82-year-old stadium as a head coach tomorrow afternoon when the Bruins play host to the Wildcats at 3:30 p.m. [Read article]




showAds('bigbutton')?>





showAds('mediumbutton')?>

showAds('wildlinks')?>