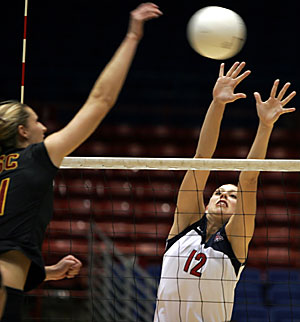 CLAIRE C. LAURENCE/Arizona Daily Wildcat

UA sophomore Meghan Cumpston (12) attempts a block during the Wildcats' home loss to USC last weekend.

By Lindsey Frazier
Arizona Daily Wildcat
Friday, October 8, 2004
Print this


The No. 21 Arizona volleyball team will trek to Oregon this weekend in pursuit of its first conference victory of the season. The Wildcats (8-6, 0-4 Pacific 10 Conference) will battle Oregon State on Friday at 7 p.m. before heading to Eugene, Ore. to face Oregon on Saturday at 7 p.m.

"Oregon State has a very good team," said UA head coach Dave Rubio. "They return a lot of players. I'm so concerned about us and our side of the net. But I know that they are going to give us a good match."

The Beavers (8-4, 2-1) defeated Washington State 3-1 last Friday before their five-game winning streak was snapped in a sweep by Washington on Saturday.

2004 Season Opener
Arizona Wildcats

vs.

Oregon State Beavers
Today
7 p.m.
---
Corvallis, Oregon
The Ducks (9-4, 1-2) broke even last weekend sweeping Washington State on Saturday after losing to Washington in three games the day before. The win over the Cougars accounts for Oregon's first Pac-10 win since Nov. 1, 2002, and its first victory over WSU since Nov. 9, 1990.
Despite the tenacity of the Oregon State team, Arizona holds it to a 27-10 all-time record, in which the Wildcats have won the last 15 meetings for its longest current conference winning streak. Arizona has similar luck with Oregon, as the Wildcats are 31-8 all-time against the Ducks, including 10 consecutive wins.
After losing to both UCLA and Southern California in last weekend's homestand, Arizona dropped four places - from No. 17 to No. 21 - in the USA Today/College Sports Television Top 25 Coaches Poll. The Wildcats have the most losses of any team in the poll.
"Obviously the record is always looming, but I look at it in terms of our team and playing well," Rubio said of the team's mediocre conference start. "I really don't look at the wins and losses. I'm way more concerned about us and trying to get our team solidified and everything in its right."
Rubio said he hopes a more consistent lineup will bring stability and wins to the Arizona team.
"The last thing we need is in the sixth week of the season is have our sixth straight different lineup out there," he said. "I think trying to get some normalcy into the lineup is real important to us."
No one is affected by the changing lineup more than sophomore setter Stephanie Butkus.
"It's hard to get rhythm going and know who you are playing next to and feeling comfortable with everybody," said Butkus, who ranks eighth in the Pac-10 with 11.18 assists per game and has five double-doubles on the season. "It shouldn't affect us but it does.
"(This) is the hand that we were dealt this particular year, and the hope is that as we build (and that) our team will peak at the right team," Rubio added. "And that's really what we're focused on is peaking at the right time and playing well when it really counts - which is at the end of the year."


Write a Letter to the Editor