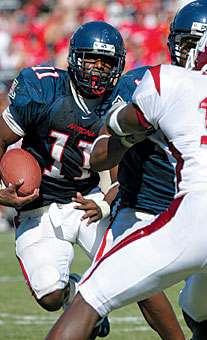 EVAN CARAVELLI/Arizona Daily Wildcat

UA tailback Mike Bell pushes upfield during the Wildcats 20-19 home loss to Washington State last month. Arizona heads to Pasadena, Calif., tomorrow to face UCLA at 3:30 p.m.

By Brett Fera
Arizona Daily Wildcat
Friday, October 8, 2004
Print this


Cats hit road for first time in 2004

It's been a year of firsts for UA head football coach Mike Stoops, and the Wildcats' matchup with UCLA this week is no exception.

The Wildcats (1-3, 0-1 Pacific 10 Conference) hit the road for the first time under Stoops when they head west to face the upstart Bruins (3-1, 1-0) at the Rose Bowl in Pasadena, Calif., at 3:30 p.m. tomorrow.

"When you go on the road your mental toughness and execution becomes paramount," Stoops said. "Not giving up big plays on defense and, offensively, not turning the ball over."
Arizona Wildcats (1-3)

vs.

UCLA Bruins (3-1)
Tomorrow
3:30 p.m.
TV: Fox Sports Net (national)
Radio: KCUB 1290 AM
---
Pasadena, California
Turning the ball over has been the Wildcats' Achilles heel so far this season.
All-Pac-10 running back Mike Bell fumbled on the first play of scrimmage against nationally-ranked Utah in Arizona's second game of the season, while the unthinkable happened to backfield mate Gilbert Harris two weeks ago - a fumble on what could have been the Wildcats' final play against Washington State, other than kneeling down to run the clock out and preserve a victory.
Stoops said going on the road actually may be beneficial this week, as he looks for his first Pac-10 victory.
"I think it enables you to get more focused. You don't have any distractions," Stoops said. "You go to the hotel. We get there, have a meeting. (We) get up in the morning, have a meeting. (We) have a pregame meal and go to the stadium. There's not a lot that happens on the road that's different, but you just don't have all the distractions."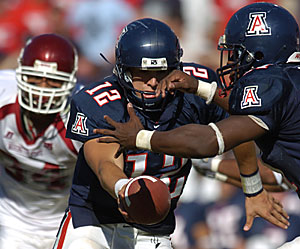 CHRIS CODUTO/Arizona Daily Wildcat
UA quarterback Kris Heavner (12) hands the ball off to tailback Mike Bell during the Wildcats' 20-19 loss to Washington State two weeks ago at Arizona Stadium.
UA junior safety Darrell Brooks said coming off a bye week will help the Wildcats return their focus to winning, after suffering a pair of tough defeats in recent weeks.
"It lets us all recuperate," Brooks said of the physical and mental drain of the team's previous games. "It lets us get focused on the task at hand."
In order for Arizona to win tomorrow, Stoops said the Wildcats need to consistently stop the Bruins' vaunted run game, led by sophomore Maurice Drew and senior Manuel White. Drew leads the Pac-10 in rushing at more than 167 yards per game, while White sits third on the conference list, averaging 90 yards per contest.
"If we're going to have a chance to win on Saturday we have to control the run game, no question about it," Stoops said, noting that his defense must be careful. "You have to be careful that you just don't commit everyone to the run because Drew Olson can beat you throwing the ball as well."
Olson, the Bruins' junior quarterback, has been mildly efficient for UCLA, completing 54 percent of his passes for 740 yards, four touchdowns and five interceptions through four games.
One aspect of tomorrow's game won't be a first for Stoops, however. The matchup, originally scheduled for a 12:30 p.m. start time, was switched to a 3:30 p.m. kickoff to accommodate Fox Sports Net's interest in using the game for its national telecast. Arizona's 9-7 loss to Wisconsin last month was also televised nationally by FSN, while the Cougars' victory over the Wildcats two weeks ago was regionally carried by ABC.


Write a Letter to the Editor