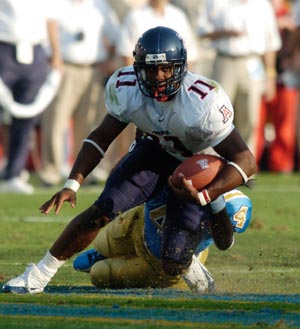 CHRIS CODUTO/Arizona Daily Wildcat

Mike Bell breaks a tackle from UCLA's Jarrad Page during the first half Saturday's game at the Rose Bowl in Pasadena, Calif. UCLA beat Arizona 37-17.

By Brett Fera
Arizona Daily Wildcat
Saturday, October 9, 2004


The Arizona football team hit the road for the first time Saturday, but the Wildcats were handed yet another defeat Saturday, a 37-17 setback to UCLA at the Rose Bowl in Pasadena, Calif.

For the fourth consecutive game, the Wildcats, led by first-year head coach Mike Stoops, proved that it's no longer the cupcake on the schedule it once was, even if it was the fourth straight time Arizona walked off the field empty handed.

"I thought our team played extremely hard, but we didn't play very smart tonight, and that hurts us," Stoops said.

Wildcat punter Danny Baugher had a punt blocked inside Arizona's own 15-yard line, leading to the first points of the day, a safety that gave UCLA a 2-0 lead. UCLA would never look back.

The Bruins jumped out to a 9-0 on a 28-yard screen pass for a touchdown from quarterback Drew Olson to fullback Michael Pitre. UCLA entered the half with a 23-3 lead, despite a comparable state sheet from both teams.

Olson finished the day with a career-high four touchdown passes, three to 6-foot-6, 255 pound tight end Marcedes Lewis, also a career-high. Lewis also set career-highs in receptions, with six, yards, with 99.
Olson's counterpart, UA sophomore Kris Heavner, didn't fare as well, completing 13 of 24 passes for 93 yards and a late-game interception. Heavner didn't receive any help from his receiving corps, however, which dropped wide-open passes on more than a few occasions on the day.
While Arizona was able to contain UCLA's marquee rushing duo, backs Maurice Drew and Manuel White for most of the game, it was Arizona's own three-back system that proved troublesome for the Bruins, and kept the game respectable throughout.
UA junior tailback Mike Bell picked up 134 yards on 21 carries, while junior Gilber Harris added 74 yards on nine carries. Redshirt Freshman running back Chris Heavner scored the first two touchdowns of his career as well, adding 55 yards on eight carries.
"We knew going into this game we'd run the ball on them. They were giving up 5.5 (yards per carry) a game," Stoops said.
Drew, who entered the game leading the nation in total yardage and third nationally in rushing at more than 160 yards per game, was held to just 62 yards on 17 carries. White entered Saturday's contest third in the Pac-10 in rushing at more than 90 yards per game, but was held to just 22 on 11 carries by the UA defense.
Arizona continues its two-game road swing next week when it takes on Pac-10 foe Oregon Saturday in Eugene, Ore.


Write a Letter to the Editor