Wednesday, October 13, 2004


Football: QB Costa quits UA team
UA junior quarterback Nic Costa left the Wildcat football team this week, UA head coach Mike Stoops said.
"He quit," Stoops said.
When asked to elaborate, Stoops said, "No. What do you want me to say?"
Stoops said Costa didn't give a reason for quitting.
"He just quit," he said.
The Aloha, Ore., native has been through some turbulent times with the Wildcat football program in the last couple years. [Read article]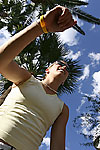 Athlete of the Week: Beth Hoge's run in the sun
Beth Hoge of the UA cross-country team not only ran to the title at last weekend's ASU Invitational, she sprinted her way to the top of the Athlete of the Week polling, charting the first cross country winner of the year for the women's team. The 23-year-old nutritional sciences senior took individual honors along with the team trophy with a time of 18:20.5 in the 5,000-meter course. Hoge sat down with the Wildcat to talk about her passion for running, her impressive math skills and who she thinks is the cutest guy on the football team. [Read article]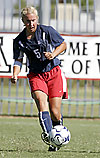 UA Soccer Roundup: UA's Miller earns Pac-10 Player of the Week nod
After scoring both the game-tying and game-winning goal to upset the No. 4 team in the country on Sunday, junior midfielder Mallory Miller earned Pacific 10 Conference player of the week honors.
Down 1-0 at the half against Washington, Miller scored 53 seconds into the second half to knot the game at one. In the 73rd minute of play, Miller struck again, heading the ball into the back of the net for the game-winning goal. The final score of Sunday's game was 3-1. [Read article]




showAds('bigbutton')?>





showAds('mediumbutton')?>

showAds('wildlinks')?>