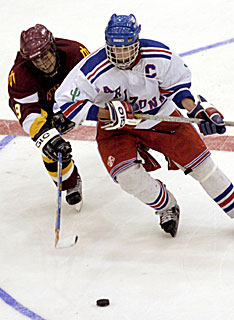 CHRIS CODUTO/Arizona Daily Wildcat

Arizona senior forward Mickey Meehan pushes past ASU's Ryan Eaner during the second period of the Icecats' 8-1, season-opening loss last night in the Tucson Convention Center Arena.

By Kyle Kensing
Arizona Daily Wildcat
Tuesday, October 26, 2004
Print this


Sun Devils swarm TCC for dominant 8-1 victory

Arizona State spoiled the Arizona Icecats' 26th season opener last night at the Tucson Convention Center in an 8-1 rout.

The Sun Devils jumped on top of the Icecats early when freshman forward Joe Ahern scored on an assist from defenseman Tony Bonacorso less than a minute into the game.

"They scored in the first minute, and that's never good," Icecat head coach Leo Golembiewski said.

ASU stayed on the offensive early, controlling the puck the game's first three minutes.

Opening Week
Arizona Icecats

vs.

ASU Sun Devils
Today
7:30 p.m.
---
Tucson Convention Center Arena
UA weathered the onslaught and went on an attack of its own. Freshman leftwing Jerald Zivic, senior center Mickey Meehan, and freshman right wing Craig Irwin all fired early shots on goal, but produced no scores.
The teams struggled for 11 minutes to gain an advantage with neither giving an inch. UA freshman goaltender Jay Punsky matched ASU goalie Colin Cook's seven first period saves.
However, the three shots Punksy didn't save proved costly.
Brandon Bowden and Stephen Hipskind scored a pair of goals within a minute of each other at the period's end, giving ASU a 3-0 lead at first intermission.
"We didn't get out on the defensive zone," Golembiewski said. "We allowed a lot of odd-man rushes."
WILL SEBERGER/Arizona Daily Wildcat
ASU's Brandon Bowden cuts off Icecat Craig Irwin at the boards during the Sun Devils' 8-1 romp over Arizona last night in the Tucson Convention Center Arena. The Sun Devils jumped out to a 5-0 lead before the Icecats put their lone goal on the board in the second period.
The Icecats attacked early in the second, but found no success against Cook. The ASU goalkeeper stonewalled 10 UA shots in the middle period.
Senior Bryan Aronchick, who relieved Punsky in goal near the end of the first, matched Cook early in the period, stopping a series of Sun Devil shots, including a breakaway with 12:21 remaining.
A more aggressive Arizona offense and Aronchick's few big saves were not enough to contain the Sun Devils.
Forward Derek Tannahill scored with 14:21 in the period. Another Ahern goal put the Sun Devils ahead 5-0 with 6:43 left.
Arizona's Meehan answered on a power play 44 seconds later on an assist from defensemen Doug Wilson and D.J. Pelletier, but it proved too little too late. Tannahill added another ASU goal 1:15 later.
By the start of the third period, the wind was out of the Icecats' collective sails.
The Sun Devils continued the assault with two goals in the final frame, rounding out the scoring with their fifth goal against Aronchick, and eighth overall for the evening.
The Icecats try to rebound against the Sun Devils tonight at 7:30 in the TCC Arena before welcoming Lehigh for a pair of home games Friday and Saturday nights.


Write a Letter to the Editor