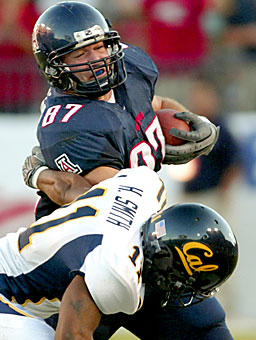 SAUL LOEB/Arizona Daily Wildcat

UA redshirt freshman quarterback Richard Kovalcheck fires a pass during the Wildcats' 38-0 home loss to California Saturday at Arizona Stadium. Kovalcheck, who completed 12-32 passes for 159 yards and an interception in his first career start will be under center again against Oregon State this weekend, UA head coach Mike Stoops said.

By Charles Renning
Arizona Daily Wildcat
Tuesday, October 26, 2004
Print this


Players: Win necessary to boost morale

The Arizona football team is suffering from a six-game losing streak, and those within the program believe a win would be a perfect cure.

"A win would do so much for this team," said freshman cornerback B.J. Dennard, who has seen time on special teams. "It would be a confidence booster more than anything. We just need to win."

"It would boost us a lot. That's exactly what we need," said junior defensive end Copeland Bryan. "We've been here working so hard and for what? A win is really what we need."

Since the Wildcats lost to Washington State by one point late last month, the margin of defeat has grown steadily for the Wildcats. The team lost to UCLA by 20 points, fell to Oregon by 14 - thanks only to a pair of UA touchdowns in the game's final two minutes - and was shutout 38-0 by visiting California over the weekend.

2004 UA Homecoming
Arizona Wildcats

vs.

Oregon State Beavers
Saturday
4 p.m.
Radio: 1290 AM
---
Arizona Stadium
Head coach Mike Stoops said the scores of the games haven't shown the progress of his team, but a win would be huge for the Wildcats' morale.
"I think our kids are desperate for a win," he said. "I think it wears on you when you lose games. We're going to have to play well (against Oregon State). We're going to have an opportunity to win."
The Beavers will be the seventh straight team the Wildcats have played that competed in a bowl game a year ago.
Arizona lost two games (Wisconsin and WSU) in the games' final minutes to drop the team to 1-4. Because those losses were so emotionally draining, Dennard said it has taken its toll on the rest of the year.
"(Winning those games) would have changed the whole season. Those first couple games were very crucial to our outcome," Dennard said.
Because Arizona was unable to pick up those early season wins, Stoops said the errors and mistakes have snowballed.
"Because a couple balls don't bounce our way and we don't get a call here and there, that's how fragile we are. We're not good enough to overcome some of the mistakes or some of the inconsistent play."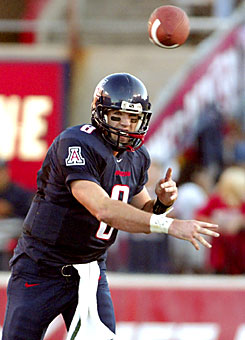 SAUL LOEB/Arizona Daily Wildcat
UA senior tight end Steve Fleming runs upfield during Arizona's 38-0 loss to California Saturday at Arizona Stadium.
Kovalcheck to make second start vs. OSU
Even though Arizona was shut-out and Stoops said the offense still has a lot of improvement to make, he said freshman Richard Kovalcheck will be under center against Oregon State for his second collegiate start.
Kovalcheck was 13 of 32 for 159 yards and an interception in his first start against Cal last weekend.
"I thought his composure was good most of the night," Stoops said. "He messed up a couple plays here or there. That's understandable in your first start. I think he's a guy who you can see get a lot better through repetition and playing. He shows good toughness and awareness on the field."
Stoops said the Wildcat receivers didn't really help the freshman quarterback.
He said the Wildcats had about five drops against the Bears, and that mistakes like those are hard to explain because they are plays the team makes in practice.
"I don't really have a good explanation for it," Stoops said. "Maybe we just don't have enough poise or confidence. That's when not winning hurts you."
RB Harris doubtful against Beavers
Junior runningback Gilbert Harris is doubtful with an ankle sprain this weekend, according to Stoops.
Harris, the Wildcats' second leading rusher, was hurt in the Wildcats' loss at Oregon and didn't play against Cal.
Senior Brandon Phillips will also miss the Wildcats' game with Oregon State. Phillips suffered a leg injury against the Ducks and is expected to miss a couple more weeks after sitting out against the Golden Bears.
Stoops said defensive tackle Paul Philipp is also questionable. He has been out with a shoulder injury since the Wildcats game against UCLA,
"We hope to get him out there some point hopefully this week," Stoops said.
Stoops also expects junior offensive lineman John Abramo to return to the field come Saturday. Abramo missed the game against Cal with an ankle sprain.


Write a Letter to the Editor