By Tom
Arizona Daily Wildcat
Tuesday, October 26, 2004
Print this


Regardless of where a team sits on its schedule, be it fighting for a playoff spot or simply opening exhibition play, nothing can help morale more than a little motivation.

A prime example of this is in Boston. During the American League Championship Series against the New York Yankees - a team known for dashing the hopes of Bostonians through regular domination - the Red Sox reportedly watched "Miracle," a movie detailing the United States' victory over the Soviet Union in the 1980 Olympic hockey finals.

At the time, the Red Sox were winless in the series. It appeared the Yankees would once again stick it to their eastern neighbors, having already gone up three games to none. Before the Red Sox's win, no professional sports team - except for two hockey clubs, interestingly enough - had ever recovered from such a postseason deficit.

Yet the Red Sox pulled the miracle, winning four straight over their once-dominant rivals and advancing to the franchise's first World Series in 18 years.

For Boston, all it took was a little cinema to help them over an arduous roadblock. While few UA teams can complain of any such burden right now, here are a few movies they might consider watching to help improve their present state.

UA football

"The Replacements"

Why it's relevant: Just as in this Keanu Reeves movie, the UA football team has relied on a number of seldom-considered players, including quarterback Richard Kovalcheck and running back Chris Henry, to get them where they are today. At 1-6, and officially eliminated from bowl contention, the Wildcats are in a place about as pleasant as Reeves's fishing boat in the Seattle bay.

What the team can learn: Though his team is fractured, its future more or less reliant on a playoff berth, Reeves finds his game just in time, and the Washington Sentinels manage to reach the postseason. A similar ending might be impossible for Mike Stoops and Co., but the team's leaders, Kovalcheck in particular, could always use a reminder that, really, it's not how you start but rather how you finish that matters in the end.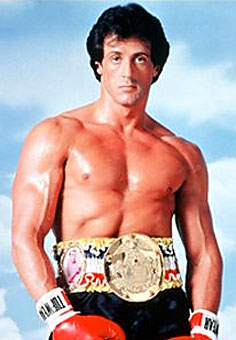 PHOTO COURTESY MGM
The Arizona soccer team's two-game skid, after the Wildcats jumped out to an early lead in Pac-10 play, is reminiscent of Sylvester Stallone's character in "Rocky III," who suffered a few setbacks after an impressive ride to the top.
UA soccer
"Rocky III"
"Victory"

Why they're relevant: Just as in the third limb of Sylvester Stallone's five-legged cash cow, the UA women's soccer team finds itself set back after an impressive ride to the top. A 1-0 loss to Arizona State on Friday night knocked the Wildcats out of a first-place tie in the Pacific 10 Conference with UCLA.

Can they possibly recover?

What the team can learn: Because the endings to the first three Rocky movies are so textbook - Rocky loses, wins, then loses and wins successively - the team may not take away too much (except a desire for what Stallone took to build his quadriceps). But I pity the fool who believes UA soccer won't be back on top by the end of the season - among its in-state rivals, at the very least.

As for "Victory," yeah, it's another Stallone movie. But believe or not, there's a lesson to it - improve your craft. Improve it while you still can.

UA basketball
"Blue Chips"
"When We Were Kings"
"White Men Can't Jump"

Why they're relevant: Just as in the Nick Nolte film about a rebound from a disappointing season, the men's basketball team finds itself in semi-jeopardy after a mere 20-win season and a loss in the first round of the NCAA Tournament.

What the team can learn: All right, so Arizona doesn't welcome a recruiting class as talented as the one led by Nolte, which included Penny Hardaway and Shaquille O'Neal. But this year's roster holds a lot of promise, keyed by the additions of guard Jawann McClellan and forward Mohammed Tangara. If this squad's veteran core can cipher any of the fumes left from the Wildcats' 2001

Final Four berth and 1997 national championship season - when they were kings, indeed - year eleventy-billion of the Lute Olson era may be the best one yet.

As for "White Men Can Jump," sources say that sophomore center Kirk Walters added 25 pounds of muscle in the off-season. Whether that's true, it can only help the team's frontcourt presence as the season progresses. Walters, meanwhile, may want to take a cue from Woody Harrelson, whose chiseled physique overcomes not only a number of gaudy outfits but also Wesley Snipes and Rosie Perez to develop some 'hood-like hops.

UA gymnastics
"Teenage Dream"

Why it's relevant: Just as in this long-forgotten foray into the world of championship gymnastics (one that, oddly, features Reeves in an early role), the Gymcats suffered a disheartening setback while searching for glory last spring. Despite reaching the postseason for the 18th straight year, the team fell one spot short of the NCAA Championships.

What the team can learn: This year's Gymcats squad is loaded. From top to bottom, experience abounds on what might be the best roster in school history.

Senior Monica Bisordi made the NCAAs as an individual in April, and her younger teammates will realize teenage dreams of their own if they can help meet the hype for next season.

Honorable Mention
"Chariots of Fire" (UA cross country)
"The Mighty Ducks" trilogy (UA hockey)
"Major League" (UA baseball)



Write a Letter to the Editor