Friday, October 29, 2004

Election politics lead to tension, crime on campus
From protesters at the Michael Moore speech to pie throwers at the Ann Coulter speech, students say the election is causing political tensions between students and dividing the campus.
On Oct. 20, a student's window with a Kerry/Edwards poster in it was damaged at Sky View Apartments, 1050 E. Eighth St.
Silke Anderson, political science freshman, said she and her roommate were sleeping when they heard a loud crash at the window around 5:30 a.m. [Read article]




Alumni plaza: Plaza to be dedicated tonight
Public will get first look at sculpture
After five years of planning, the Alumni Plaza will open tonight at a dedication ceremony and be presented to the university in front of administrators, alumni, students and the Tucson community.
The dedication begins at 5 p.m. and will be followed by "The Bash on Alumni Plaza," a dinner to kick off the weekend.
Sandra Ruhl, president of the UA Alumni Association, said the plaza will provide students with an open area for private conversations, relaxation or recreation activities. [Read article]




'Band kid' celebrates 11 years with marching band
Affectionately known as the "band kid" by UA Pride of Arizona marching band members and staff, Tucson resident Robert Shinn celebrates his 27th birthday today.
Shinn's birthday also marks the anniversary of his involvement with the marching band that began at Homecoming 11 years ago, despite his being mentally challenged.
Since then, Shinn has helped conduct the band at every home football game and has attended almost every band rehearsal, which has become an activity he feels has been the most fun in his life. [Read article]



Popular courses fill in minutes
Editor's note: This is the last in a three-part series on class registration.
As sophomores and freshmen prepare to register for courses in the next few weekends, many are building their schedule around core classes, but others have their sights set on popular UA classes, which are filling up quickly.
With high demand and limited availability, students are learning popular classes on campus disappear before they even have a chance to register. [Read article]



Watts out of hospital
Sheldon Watts, the UA redshirt football player shot in the arm and chest at a party earlier this month, was released from the hospital yesterday.
Watts, a pre-business freshman from Fresno, Texas, was first admitted into University Medical Center in critical condition on Oct. 10 after the shooting. He remained in critical condition until last week, when he was downgraded to fair condition.
Watts was shot at a house party near East Speedway Boulevard and South Wilmot Road. The shooting happened early in the morning after a confrontation broke out at the party, at which between 100 and 200 people attended, according to police. [Read article]




Golden twirler to be honored at homecoming
'Grand Dame' was first twirler at UA, coach for past 50 years
The "Grand Dame" of baton twirling, who has kept the UA twirling for a half a century, will be honored this weekend for her many years of dedication to the university.
Shirlee Bertolini, coach of the UA Twirling Line, will be honored during Homecoming activities this weekend for her 50 years of service and dedication.
Bertolini was the first recruited twirler to come to the UA, when she moved from Detroit in 1954. [Read article]



Student Showcase highlights UA's scholarly research
Graduate and undergraduate students alike will put their scholarly research on display at the 12th annual Student Showcase today and tomorrow in front of the Main Library.
The Graduate and Professional Student Council organized the showcase as the academic portion of UA's Homecoming weekend because the event represents the only student-run research exhibition of its magnitude in the country, said Amanda Brobbel, president of GPSC. [Read article]




Student tries to increase fan involvement
A general lack of fan participation during home football games has driven one student to make it his personal mission to educate UA fans on proper sports fan etiquette.
Lucas Doub, a communication senior, said he was shocked when he attended his first football game at the UA. Doub said he was raised in the South on a steady course of sports games, where he says he saw how fans should participate during home games. [Read article]




Greek-or-Treat dampened by rain
Fraternities and sororities invited trick-or-treaters to come collect candy yesterday, but rain and 52-degree temperatures kept the crowds away.
The Greek-or-Treat Halloween event, which was on East First Street between North Mountain Avenue and North Vine Avenue from 6 p.m. to 7:30 p.m, was sponsored by the Order of Omega.
The Order of Omega is an organization that brings greek chapters together for philanthropy projects. [Read article]



Rock the Vote brings bands, speakers to Himmel Park
UA students are encouraged to celebrate their right to vote at the non-partisan Get Out & Vote event tomorrow at Himmel Park.
The event, which is part of MTV's Rock the Vote program, is an avenue for the young people of America to learn about the candidates and issues affecting their lives through political speakers and musical performances, said Joma Williams, a Tucsonan and coordinator of tomorrow's event. [Read article]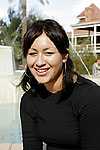 First in college, student aims to make family proud
Monica Martinez, a political science sophomore, is a first-generation college student who thinks that having opportunities and being acknowledged for achievement is very important.
Martinez is the first person in her immediate family to attend a four-year university and is planning on graduating in May 2007. Neither Martinez's parents or her grandparents attended college.
"I think that not enough people have enough opportunities to attend college or get recognized for their accomplishments," Martinez said. "I feel very privileged." [Read article]



Student-run group puts community service first
Students looking to make a difference in their community and have some fun in the process might want to consider joining UA's only fraternity dedicated primarily to community service.
Members of the coed fraternity Alpha Phi Omega perform a wide variety of community service projects with a number of different organizations including Habitat for Humanity, the Southern Arizona AIDS Foundation, and World Care, said Amanda Meeker, APO membership vice president Garrett Bennett, a retailing and consumer sciences junior and APO service chairman, said in the past, APO members have also volunteered to play bingo with the elderly, pick fruit for sick patients, and babysit children at women's shelters while their mothers take classes to "get back on their feet." [Read article]




Fast facts
Things you always never wanted to know
Residents of Toledo, in the critical swing state of Ohio, have been barraged with 14,273 televised commercials on the presidential race in the past two months, more than any other city in the nation.
Sight accounts for 90 to 95 percent of all sensory perception. The average person's field of vision is 180 degrees.
The nose cleans, warms and humidifies over 500 cubic feet of air every day. [Read article]



Homecoming Calendar
Friday, October 29
8:30 a.m. - Homecoming Golf Classic. Randolf North, $75 entry
3 p.m. to 5 p.m. - Alumni Awards and Recognition Reception. Student Union Memorial Center Grand Ballroom South
5 p.m. to 6 p.m. - Alumni Plaza Dedication. Alumni Plaza
6 p.m. to 8 p.m. - "The Bash" on Alumni Plaza. Alumni Plaza, $30 dinner
7 p.m. to 8 p.m. - UA Black Alumni Masquerade Ball & Halloween Costume Party. Radisson Downtown Tucson, everyone invited, $10 with CatCard, $15 without [Read article]




showAds('bigbutton')?>






showAds('mediumbutton')?>

showAds('wildlinks')?>