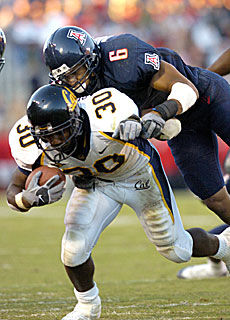 CHRIS CODUTO/Arizona Daily Wildcat

UA safety Darrell Brooks tackles California's J.J. Arrington during the Golden Bears' 38-0 victory over the Wildcats last weekend at Arizona Stadium, Arizona's sixth consecutive loss.

By Brett Fera
Arizona Daily Wildcat
Friday, October 29, 2004
Print this


Cats still looking for season's 2nd win

If the UA football team hopes to end its six-game losing streak tomorrow against Oregon State, a little homecoming déjà vu may be all the Wildcats need.

Entering the 2003 homecoming game last November at Arizona Stadium, the Wildcats were just 1-8, riding an eight-game losing streak against Washington.

After 222 rushing yards and three touchdowns from then-sophomore running back Mike Bell, the Wildcats had their second win of the season, a 27-22 victory over the visiting Huskies.

2004 Homecoming Game
Arizona Wildcats (1-6)

vs.

Oregon State Beavers (3-4)
Tomorrow, 4 p.m.
TV: none
Radio: KCUB 1290 AM

Arizona Stadium
Homecoming comes a few games earlier this season, but the Wildcats are still searching for that elusive second win of the season. Arizona takes on an Oregon State team - kickoff is scheduled for 4 p.m. tomorrow at Arizona Stadium - that's defeated the Wildcats' five consecutive times by an average score of nearly 38-12.
"There are some teams that you always have trouble against, and this has definitely been one of them, considering our situation the past three years," said UA junior safety Darrell Brooks of the visiting Beavers. "That's the way the game goes, but we're definitely going to be prepared for them this year. We're a different team, different attitude, and we're going to give them a game this year."
"Oregon State's playing well again. They bring in another tremendous quarterback," UA head coach Mike Stoops said of OSU senior signal caller Derek Anderson. "They're running the ball better then they have all year."
Stoops said that in order to take tomorrow's game from the Beavers, the Wildcats need to focus on cutting down mistakes, something that's plagued Arizona all season.
"We continually find ways to hurt ourselves on both sides of the ball and the kicking games," Stoops said, referring to the Wildcats' 38-0 loss to California last week. "I thought we did some good things but were way too inconsistent throughout a 60-minute game against a good football team."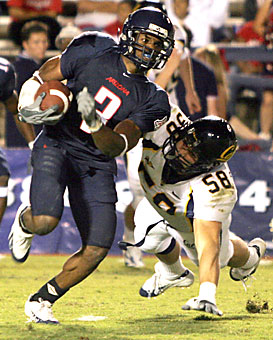 SAUL LOEB/Arizona Daily Wildcat
UA cornerback Wilrey Fontenot returns a punt during the Wildcats' 38-0 loss to Cal last weekend at Arizona Stadium.
UA redshirt freshman quarterback Richard Kovalcheck, set to make his second career start tomorrow, said that in order for Arizona to turn around their losing ways the Wildcats need to go above and beyond the call of duty out on the field.
"We need to make more than just the routine plays," said Kovalcheck, who completed 13 of 32 passes for 159 yards and an interception in his first start. "We have to make some big plays."
Kovalcheck said any skepticism he had about jumping into the lineup has disappeared after his first two tastes of game action.
"Out there when you're getting hit like that, you're not nervous anymore," said Kovalcheck, who was forced to peel himself up off the turf on more than one occasion after a hard pass rush by the Golden Bear defense last week.
Stoops said Kovalcheck is still growing as a quarterback, so some mistakes are expected.
"He messed up a couple plays here and there, called some plays the wrong way, but that's understandable in your first start," Stoops said. "We just have to execute, give him some help around him. We're not helping him with our perimeter play."
"They're going to stack the line of scrimmage and force us to throw the ball, and if we can't throw the ball any better than we did the other night then it's going to be tough," Stoops added. "Until we find some consistency in our passing game, I think it really limits what we can do."


Write a Letter to the Editor