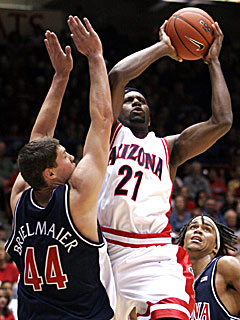 SAUL LOEB/Arizona Daily Wildcat

UA junior wing Hassan Adams (21) drives the lane on Arizona freshman forward Brett Brielmaier (44) during the UA men's basketball team's annual Pepsi Red-Blue game in McKale Center yesterday.

By Roman Veytsman
Arizona Daily Wildcat
Monday, November 1, 2004
Print this


Senior Frye leads all scorers with 37 points in Red-Blue game

The future looked bright Sunday afternoon in McKale Center as the Arizona men's basketball team battled one of the toughest teams they will face all year: themselves.

New faces as well as old showed off their improved skills in front of a modest crowd of 7,221 in the team's annual Pepsi Red-Blue game.

The Wildcats' first game-style action of the season featured Channing Frye, who poured in a team-high 37 points, hitting 13 of 18 shots from the floor while using an array of jumpers, dunks and put-backs in the process. To complement Frye, freshman guard Jesus Verdejo scored 27 points and the Puerto Rico native lacked any pre-game jitters some might have expected from the UA's incoming crop of freshmen.

"I just played hard," said Verdejo. "The first half, my shot was kind of off, but second half I started playing more, jumping more on my shot, and I came through."

To create a competitive game, the UA head coach Lute Olson's staff decided to evenly pick teams for the first half. The coaches seemingly chose wisely, as the half ended in a 49-48 victory for the Blue team made up of Verdejo, sophomore Kirk Walters, senior Salim Stoudamire, freshman Daniel Dillon, junior Hassan Adams and freshman Bret Brielmaier.

The Blue team was forced to battle out of a hole early, as the Red team jumped out to a 16-4 lead led by Mustafa Shakur's two quick steals, both leading to easy buckets. Shakur led the team in the first half with seven assists to go with his seven points.

"The ball movement was great," said Shakur. "I think guys still have to understand what coach Olson is stressing to us about coming off screens and facing up, and trying to look for shot first instead of putting the ball on the floor. We really did a good job of that in the first half."

The Blue team battled back to tie the game at 28 on a Stoudamire jumper. Stoudamire had 24 points and shot nine for 19 from the field, including two of seven from beyond the arc. The Blue team took a 45-41 lead before freshman Jawann McClellan was able to hit a layup and then get to the free-throw line on two straight possessions, knocking down three of four. McClellan went to the free-throw line eight times in the game while demonstrating his ability to slash to the basket.

With the score 48-45, Stoudamire made two free throws and then threw a clean pass to Verdejo for a layup, giving the Blue team the lead with five seconds remaining.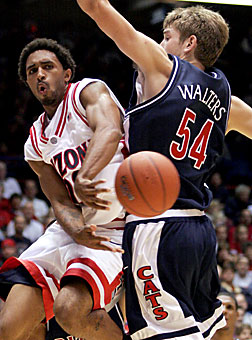 SAUL LOEB/Arizona Daily Wildcat
UA senior guard Salim Stoudamire, left, tosses a pass to a teammate around UA sophomore forward Kirk Walters during the Wildcats' annual Red-Blue scrimmage yesterday in McKale Center. Arizona next hits the court Sunday at 2 p.m. against Team Georgia.
In the second half, the projected starters played for the Red team, with sophomore forward Ivan Radenovic played the power forward position in place of Isaiah Fox.
Fox, who is battling numerous injuries, including a hurt calf muscle, played for the Red team later in the second half, as did Chris Rodgers.
"Once I warmed up, I didn't really pay attention to it," said Fox of his injuries. "They're really knickknack injuries - nothing serious - so I felt good once I started playing."
Fox - who according to Olson is not in ideal playing shape - looked strong on the court, grabbing 10 rebounds in the first half.
"My goal was to get a double-double," said Fox. "Some shots weren't falling for me, but overall I think I played good."
Freshman forward Mohamed Tangara, expected to battle Fox for playing time down low, didn't play in the scrimmage because of a back injury. He said he's rehabilitating and expects to be back on the court within a week.
UA Basketball Exhibition
| | | |
| --- | --- | --- |
| Arizona Wildcats | vs. | Team Georgia |
Sunday, 2 p.m.


McKale Center
Rodgers, who is fighting for the third guard spot along with Verdejo, scored 17 points and made two of five from 3-point land.
"I thought I played pretty well," said Rodgers. "I just wanted to get up and down the court and just have fun while I was out there."
The Red team, after struggling in the initial stages of the second half turned it on and cruised to a 57-39 victory.
Adams was not much of a factor on the day but did have a highlight dunk when he took a Stoudamire lob off the backboard and jammed it in to put the Red team up by two.
Both teams shot over 50 percent for the game and over 80 percent from the free throw line. The Red team had 14 assists on 17 baskets in the first half.
"I think we did a great job," said Shakur. "Coach Olson is still pushing us. He wants us to play even better defense. We just need to continue to make progress as the season goes on."


Write a Letter to the Editor