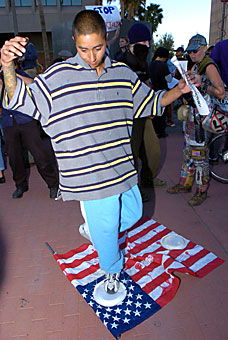 CHRIS CUDUTO/Arizona Daily Wildcat

A protester who declined to give his name smashes a pie into the American flag outside the Federal Building in Downtown. A group of about 150 people marched from DeAnza Park on the corner of Speedway Boulevard and Stone Avenue to protest yesterday's election result.

By Natasha Bhuyan
Arizona Daily Wildcat
Thursday, November 4, 2004
Print this


Five people were arrested yesterday, including a UA student, during a post-election protest, in which people marched from De Anza Park, North Speedway Boulevard and North Stone Avenue, to the Federal Building, 300 W. Congress St.

Organized by the Tucson Chapter of the Nation Lawyers Guild, Refuse and Resist, Food Not Bombs and Dry River Collective, the march called for action to protect peace, freedom and security in America.

Tucson Police Department Sgt. Carlos Valdez said at 4 p.m. officers began warning protesters to remain off the streets as they walked along North Fourth Avenue because they were disrupting traffic during the march. When protesters did not comply, Valdez said officers sprayed people with pepper balls and arrested them.

The charges in the five arrests included failing to comply with an officer giving traffic directions, interfering with government operations, obstructing a roadway and resisting arrest, Valdez said.

But Rachel Wilson, a second-year law student, said while some protesters were arrested for walking on the street as opposed to remaining on the sidewalk, she was unclear as to why the others were arrested.
PHOTOS BY CHRIS CODUTO / Arizona Daily Wildcat
Protesters march downtown yesterday in opposition to the results of the election.
"There was no legal reason, no threat," Wilson said.
Wilson said after one protester was struck by a pepper ball, she began showing a bruise to news media and was arrested.
Dan Held, a history freshman who witnessed the arrests, said one man was arrested for walking around a car parked on the street.
Although Valdez said the pepper balls were used only in four instances on specific protesters, Held said officers shot pepper pellets into the crowd when people began marching along the street, which Held said be believed was "excessive."
"There were young people, women, children and babies in strollers," Held said.
However, Valdez said one pepper ball was used on a man who struck a police officer with his shoulder, another was used on a man who attempted to assault a police officer, while the remaining pepper balls were used on protesters who failed to get off the street.
The man who allegedly struck the police officer ran away and remains at large, Valdez said.
Those who gathered for the protest said it was in response to Tuesday's election, to show national leaders the American people want a change in administrative policies.
Paul Rudnick, a studio arts junior, said the protest would have taken place regardless of the presidential winner.
Rudnick said he considers the PATRIOT Act and Proposition 200 violations of civil liberties, and said they need to be changed.
At the Federal Building, protesters listened to speeches, played music and held up signs.
Zach Wolff, a UA alumnus and member of Al Pieda, the organization claiming responsibility for disrupting Ann Coulter's speech at Centennial Hall Oct. 21 by throwing pies at her, said he was protesting because he believes any president, regardless of political party, is a corporate puppet.
Sarah Newby, a photography junior, said protesters were also asking for changes in U.S. environmental policies, the war in Iraq and American civil rights, such as gay marriage and abortion.
Jenna Foste, a studio arts junior, said she believes Bush needs to pull American troops out of Iraq in order to end the murders of innocent Iraqis, as well as her family and friends.
Valdez said the people arrested were cited and taken into custody.


Write a Letter to the Editor