Thursday, November 4, 2004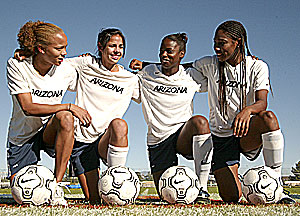 Soccer: Seniors' last stand
Record-setting soccer season sends senior quartet off on high note
Wildcat senior forward Kamaya Damwijk laughed as she spoke the time-tested cliché.
"Good things come to those who wait," she said.
For the No. 10 Arizona soccer team, no statement could be any more true.
Damwijk walked on to the team this season, but for the other three seniors on the Wildcat soccer team - forward Vanesha Bailey, defender Lindsey Peeples and forward Candice Wilks - the wait is over. [Read article]



Front Row Center: UA soccer season just getting good
Arizona women's soccer coach Dan Tobias was all smiles at yesterday's impromptu media gathering, with video cameras directed his way and microphones lying in wait to get a little insight into the UA athletic landscape's most surprising, if not impressive, team.
And why shouldn't he be?
His Wildcats have won 14 of 18 games, jumped into the nation's top 10 with a win Sunday over then-No. 5 UCLA and is on track to win the program's first-ever conference crown, barring a knockdown by this season's Pacific 10 Conference's bottom feeders, last-place Oregon tomorrow and ninth-place Oregon State Sunday. [Read article]




Volleyball: Cats reach for .500 against Oregon
Rarely is a losing conference record synonymous with a top-25 national ranking.
The No. 22 Arizona volleyball team (13-8, 5-6 Pac-10) is an exception to the rule. After an 0-4 conference start, the squad has never had an overall winning Pacific 10 Conference record this season, but has also retained its national standing every week.
"Last year was the same way," said UA head coach Dave Rubio of the team's conference record. "It's the (record) at the end of the season that matters, versus in the middle of the season. So I'm not too concerned about what our record is right now. I'm just concerned about making our players better every week." [Read article]



Men's tennis duo preps for team play at ITA Indoor
UA men's tennis players Roger Matalonga and Colin O'Grady finish pre-team play at the second of three national tournaments today through Sunday at the University of Michigan Varsity Tennis Center in the Intercollegiate Tennis Association National Indoor Championships.
Besides playing doubles with the senior O'Grady for the nation's fifth-ranked doubles team, Matalonga will also take his 29th-best singles rank to that draw. The doubles team quailed with an at-large bid off the strength of its rankings. Matalonga, a junior, earned an alternate berth after starting out second on the singles waiting list. [Read article]



Women's tennis' top-ranked doubles team hits ITA Indoor
After disappointing early-season results, UA doubles squad Dianne Hollands and Maja Mlakar take their preseason No. 1 ranking into the Intercollegiate Tennis Association National Indoor Championships today through Sunday at the University of Michigan Varsity Tennis Center.
The senior duo will be seeded fourth at the event after falling in the quarterfinals of its first three tournaments this season, including a recent 8-3 defeat to University of Southern California's duo of Lindsey Nelson and Carine Vermuelen in the quarterfinals of the ITA Women's Western Regional Championships. [Read article]




showAds('bigbutton')?>






showAds('mediumbutton')?>

showAds('wildlinks')?>