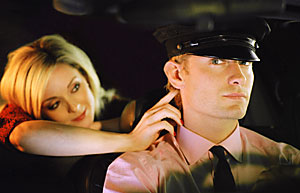 photo courtesy of paramount pictures

"Alfie" - Dorie (Jane Krakowski) gets friendly with the womanizing Alfie Elkins (Jude Law) in the remake of Bill Naughton's "Alfie." Jude Law will always be a looker, but his performance as Alfie doesn't compare to Michael Caine's in the original film.

By Celeste Meiffren
Arizona Daily Wildcat
Thursday, November 4, 2004
Print this


Jude Law is hot, but unfortunately 'Alfie' is not

In a lot of ways, "Alfie" is the perfect remake. It has been adapted to fit the present mainstream sentiment regarding gender, the characters are slightly different, and it is not as good as the original.

But more than that, "Alfie" is riding the wave of cop-out filmmaking that has become a contemporary phenomenon.

Alfie

5 out of 10
Paramount Pictures
Rated: R
103 min.
Starts Friday
It feels as though too many filmmakers have run out of ideas so they turn to old classics. "Alfie" is simply the latest in a tidal wave of remakes. And while they bring old classics to a new generation, maybe we are all better off just seeing the originals.
"Alfie" is the story of a British man (Jude Law) in New York City who is a self-proclaimed master womanizer. Throughout the course of the movie, he gets into a bit of trouble with the ladies - several of them, in fact. There is not really much more to the story. Except to say that Susan Sarandon was in it, and I was reminded of that line from "Team America;" "Your skills fade with age, Ms. Sarandon."
One major trait that has translated between the 1966 original and the new one is that Alfie talks directly to the camera, which is supposed to give a feeling of intimacy. The filmmakers use this gimmick as a way to flush out the character, instead of taking a more creative approach. This is a beef I had with both the old and new versions.
There was one aspect of the new version that was very creative. For the first three-quarters of the film, Alfie walks by billboard-sized words, which signify his feelings at that specific part of the film. For example, when he shows up at the birthday party of his ex's son, the word "Desire" is written above the diner. I thought it was inventive and effective.
Ultimately, Alfie is the personification of the male ego. He has little regard for women outside of the bedroom, he thinks he understands everything about everything and everyone, and he thinks that every woman wants to get him into bed. It feels sort of like watching the patterns of behavior for a British frat boy for two hours.
In the 1966 "Alfie," Caine's character was a complete prick (think of him like he was as Austin Powers' father in "Goldmember") and the audience generally finds him trashy and funny, but not compelling.
The reverse is true for Jude Law's interpretation of the character. He comes off as coy and completely ignorant - almost childlike in his approach to women. This aspect of his behavior is compelling as investigating the neuroses behind womanizing.
Perhaps the intention of the director, Charles Shyer, was to show how this kind of chauvinistic behavior is no longer acceptable, and whoever engages in it just ends up looking ridiculous. And they will also end up alone.
At this point in the semester, when everyone's equally broke, you should save your money for really great films.
If you need a Law fix (and that's one of the only reasons to see this), you could always go see him in "I Heart Huckabees." You would probably be better off.


Write a Letter to the Editor