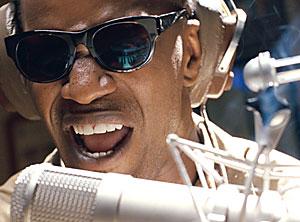 photo courtesy of universal studios

"Ray" - Jamie Foxx, in the role that will define and change his career forever, sings as Ray Charles in the autobiographical film "Ray, " which was directed by Taylor Hackford.

By Celeste Meiffren
Arizona Daily Wildcat
Thursday, November 4, 2004
Print this


First Marlon Wayans made "Requiem for a Dream." Then, Jim Carrey made "Eternal Sunshine for the Spotless Mind." And now the latest "In Living Color" alum has broken well beyond comedy and startled everyone with his performance in "Ray."

Starring in a biopic about a famous boxer, director or musician is a surefire way to get an Oscar nomination. Sometimes I think that's the reason a lot of performers have done certain movies. Foxx's jaw-dropping performance has quieted the skeptic inside of me and forced me to revel in both the brilliance of Foxx and the bigger-than-life stature of Ray Charles.

Anyone who knows anything about music (read: good music) knows that Ray Charles was one of the most influential and controversial performers of his day. He enraged and he intrigued. He was dangerous and he was brilliant.

Ray

8 out of 10
Universal Pictures
Rated: R
153 min.
Starts Friday
"Ray" follows the life of Ray Charles from the age of 7 in 1937 until 1979. The story is not told sequentially, however, as the first part of his life unfolds through flashbacks. The film chronicles his struggle with blindness as a child, his start in the music business, his family life, his heroin addiction, his womanizing habits and his musical breakthroughs.
More than that, "Ray" shows how persevering and self-reliant Charles was. He deserves a good biopic, and he got one.
"Ray" is shot beautifully. Director Taylor Hackford uses different film for Charles' past and his present. The flashbacks were shot using a grainier film, giving a sense of the heat and humidity in the South, and a raw sense of the angst he had as a child. Whereas, the film used for the contemporary scenes was more natural-looking, perhaps with a slight soft-glow feel to it.
However, there were elements of Hackford's direction that I did not like. During some of the musical performances, neon signs flash across the screen, serving as a low-budget montage sequence. Even though it gives a sense of passing time, it's a cheap way out and the film deserves better.
People shouldn't stop talking about Foxx's performance. I kept getting images of "Booty Call" in my head and being deeply confused and uncertain whether or not the same man was really on the screen.
Foxx transformed for this role. He actually played the piano and was able to recreate many of Charles' signature mannerisms. Whether the scene was about Charles' music or Charles' life off the stage, Foxx made you forget about "Breaking All the Rules."
Foxx transformed in the same way that Charlize Theron did in "Monster," and he may be rewarded similarly.


Write a Letter to the Editor