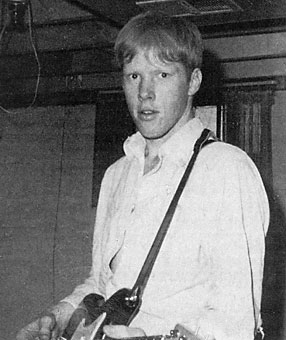 photo courtesy of unicorn stencil

"Jandek" - This reclusive musician is the subject of a new documentary, which chronicles his 28-year recording history and his lack of a stage presence.

By Mark Sussman
Arizona Daily Wildcat
Thursday, November 4, 2004
Print this


Keeping a secret for 26 years is easy. All you have to do is convince everyone there is nothing to know and no one will try to find out. Keeping a secret everybody knows is a secret is a harder trick. Tell your friends you have a secret and see how long it takes before you crack.

Ostensibly, "Jandek on Corwood" is an inquiry into the enigma that is the musician Jandek. For 26 years, Corwood Industries has released records (starting with 1978's Ready for the House) by one musician: Jandek, who is also the owner and sole proprietor of the label. He appears on the covers of many of his 34 albums, and lives in Houston.

However, Jandek does not give interviews (he's only given one in his life, and that was 20 years ago), as a rule does not make public appearances (though he gave his first and only performance at Scotland's Instal Festival on Oct. 17), and will not tell anyone any detail of his life.

Jandek on Carwood

7 out of 10
Unicorn Stencil
Not Rated
89 min.
Starts Friday
Since Ready for the House, Jandek has released one or two records every year and developed a small cult following devoted to his dissonant outsider folk music. Many of his songs consist only of a strangely tuned guitar and whispered vocals. Jandek has been able to keep almost everything a secret. The only existing interview (given to John Trubee, featured in the first issue of Spin magazine and replayed at the end of "Jandek on Corwood") is devoid of personal information. Ask for information from Corwood Industries, and you'll most likely receive a record catalogue and a cryptic, handwritten message. Try to find Corwood Industries and you'll find a P.O. box, nothing more.
Given this dearth of information, an investigative documentary seems like an intuitive move. But like most Jandek fans, director Chad Friedrichs holds Jandek's privacy almost as sacred as the musician himself. As a result, most of the film consists of people's reflections on the enigma and allure of Jandek, yet keeps its titular subject at arm's length. At first, the approach is intriguing because it reproduces the experience of listening to the music. Jandek's music can have a disturbing effect because much of it has no traditional tonal center. There is no way to orient yourself in relation to it, so everything that strikes a dissonant chord must be accepted as "correct."
But soon the approach becomes tiresome, which the film acknowledges. After listening to the same few people talk about their love of Jandek, what they think he is like as a person and why his music is great, it becomes apparent that they're not saying anything you don't already know about any kind of music you don't understand. Matador Records publicist Nils Bernstein notes that most people talk about Jandek because it lets them fantasize about something that probably has no bearing on reality. The romantic image of the disturbed, suicidal and reclusive genius is probably just that: an image.
So the film becomes not so much about Jandek, but about the "negative space" (one interviewee's term for it) he creates and allows his fans to fill. Eventually we do get to hear his speaking voice on the tape from Trubee's interview. It is the slightly drawling voice of a man who might rear-end your car at a red light, or hold up a long line for pizza when he can't decide what to order. It is a disappointment, something for which we can hardly hold Jandek or Friedrichs responsible.
A mystery is never as romantic after revelation, and Jandek probably knows this. Even though his mystery won't sell a million records, his revelation will sell even less.
"Jandek on Corwood" starts Friday at the Loft Cinema, 3233 E. Speedway Blvd.


Write a Letter to the Editor