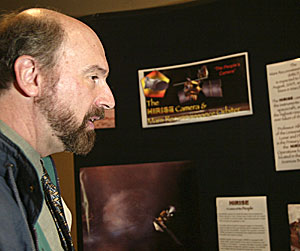 KEVIN B. KLAUS/Arizona Daily Wildcat

Health Science Library Director Gary Freiburger inquires about Internet2 and it's use with the HiRise camera on Mars yesterday in the north ballroom in the Student Union Memorial Center.

By Natasha Bhuyan
Arizona Daily Wildcat
Friday, November 5, 2004
Print this


The Internet of the future has already found a home at the UA.

Internet2 Day, held yesterday in the North Ballroom of the Student Union Memorial Center, aimed to educate UA faculty, staff and students about the many uses for Internet2, which expand beyond the technology field.

Internet2, which was founded by the UA and other universities, operates on a high-speed Abilene network, enabling users to accomplish memory-consuming tasks, such as sending research projects, engaging in video conferences, accessing large databases and promoting telemedicine.

Terry Wimmer, information technology project manager for CCIT, said the uses for Internet2 are not limited to faculty research. The College of Fine Arts uses Internet2 for video conferencing and digital dance and music sessions, he said.

Another Internet?
· Internet2 operates on a high-speed Abilene network
· Boasts a stronger bandwidth than original
· Founded by the UA and other universities
· Not for commercial use
"Internet2 has a stronger bandwidth - a greater likelihood of video conferences working," Wimmer said.
Created in response to the increased traffic on the "commodity Internet," Internet2 is not for commercial use, but is available for research-based consumers, such as universities, corporations and government, said Bruce Kaplan, editor of telecommunications for CCIT.
Although Internet2 is not available for the general public, students can access it through a UA faculty or staff member if they need to use it for research.
Former U.S. Vice President Al Gore introduced the Abilene network in 1998, with a speed of 2.5 gigabits per second, according to the Internet2 Web site. Today, the network operates at 10 gigabits per second.
Although the UA is connected at 155 megabytes per second, Wimmer said he expects an upgrade to 2.5 gigabits per second by December.
On top of additional usage fees, the UA pays a $27,000 yearly membership fee and a $20,000 connectivity fee, Wimmer said.
But Internet2 is financially beneficial to the university, as federal agencies provide millions of dollars in research funding for Internet2 member universities, according to the Internet2 Web site.
Danielle Gibboni, a finance senior, said that although it's not available for personal use, Internet2 could be helpful for students who need to send large files or are involved in research projects.
Wimmer said Internet2 is also good for collaborations with universities across the nation, which would give students outside learning experiences without having to leave the university.
The UA community can also learn about personal computer safety tomorrow during Security Awareness Day, from 9 a.m. to 5 p.m. in the Kiva Room at the Student Union Memorial Center.
Kelley Bogart, information security coordinator for the UA, said as there are approximately 100,000 to 135,000 attempted hacker and virus attacks on campus per day, it is important that students know how to protect their computers.
"Computer Security is not just something that IT people need to be aware of," Bogart said in an e-mail. "Anyone owning and/or using a computer needs to be aware of the threats and understand what they need to be doing to protect their computer systems as well as their personal data."
Although anyone is welcome to the event, the morning sessions are geared toward home computer users while the afternoon sessions are for network managers and department system administrators, Bogart said.
During the morning sessions, from 9 a.m. to noon, students can learn about basic computer security risk and protective measures, such as firewalls.
"Home computers are a popular target for computer hackers who are often looking for credit card numbers, bank account information and any other information they can use for their own gain," Bogart said.
The UA offers free Sophos Anti Virus software for students and employees to protect their computers, which can be downloaded at sitelicense.arizona.edu/sophos/rupdate/. Students who suspect they have spyware can download Spybot Search and Destroy for free at http://www.safer-networking.org/en/download/index.html.
For more information on Internet2, visit www.internet2.edu.


Write a Letter to the Editor