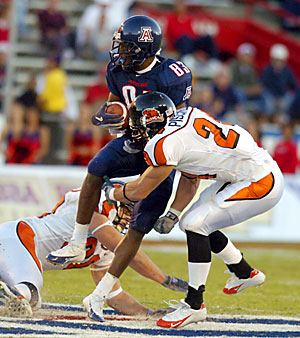 CHRIS CODUTO/Arizona Daily Wildcat

UA wide receiver Mike Jefferson tries to break a tackle during the Wildcats' 28-14 loss to Oregon State last weekend at Arizona Stadium.

By Brett Fera
Arizona Daily Wildcat
Friday, November 5, 2004
Print this


UA battles UW for Pac-10's anti-title

It may not be for the Pac-10 championship, but don't tell the UA football team that its matchup with Washington doesn't matter.

Arizona heads to Seattle tomorrow at 12:30 p.m. PST to face a Husky team that's been a near-mirror image of the Wildcats this season, with both squads sporting 1-7 overall marks and winless Pacific 10 Conference records.

"I think getting that first one's the hardest," UA head coach Mike Stoops said of obtaining that elusive first conference win at the helm of the Wildcats.

While whichever team manages to take tomorrow's game should be in the driver's seat to stay out of last place come season's end, UA junior defensive back Darrell Brooks said most UA players have come to grips with the importance of winning this weekend's game.
Arizona Wildcats (1-7)

vs.

Washington Huskies (1-7)
Tomorrow, 1:30 p.m.
Radio: KCUB 1290 AM

Seattle
"It's a reality and you have to face it," Brooks said. "Neither team has had the best of situations."
Washington's season-long slump - its only win being a 20-5 home victory over San Jose State - took another twist this week, as it was announced this week that Keith Gilbertson, midway through his second season as head coach at Washington after taking over for embattled former coach Rick Neuheisel, will step down at season's end.
"It's disappointing any time you see a coach or staff have to go through that," said Stoops said of his counterpart. "I don't know how it's going to affect their team, but I would expect nothing from them but their best shot."
Despite feeling bad for Washington's coaching staff, Stoops said that losing seven consecutive contests since defeating Northern Arizona to open the season hasn't been the easiest take for the UA staff either.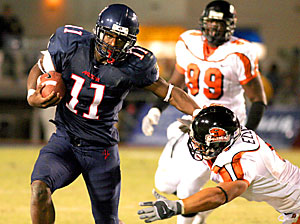 SAUL LOEB/Arizona Daily Wildcat
UA tailback Mike Bell fends off a Oregon State tackler during the Beavers 28-14 victory over the Wildcats last week at Arizona Stadium. Bell, who ran for 222 yards and three touchdowns against Washington last season, leads the Wildcats to Seattle tomorrow to face the Huskies.
"It's very, very difficult," Stoops said of losing seven consecutive games. "I probably had higher expectations than anybody."
Stoops didn't hesitate to add that not only does he have no regrets, but he's as happy now about heading the Wildcats as he was when hired late last year.
"I'm excited about being here, so it's going to make the success that much better," Stoops said.
If there was ever a team for Arizona to play while trying for its first league win, Washington is it.
UA tailback Mike Bell rushed for 222 yards - including touchdown runs of 67, 69 and 37 yards - on Homecoming weekend last year at Arizona Stadium, giving the Wildcats their lone Pac-10 win of the 2003 season.
With just three games remaining, including tilts at top-ranked USC and at home against Arizona State, UA junior offensive lineman Kili Lefotu said this week's game is as important as any other could be.
"It would be big for the program, especially for the seniors," Lefotu said.
"As seniors, it's winding down because we've only got three games to go in a Wildcat uniform," added UA senior center Keoki Fraser. "It doesn't matter who we're playing, we just have to get a win this week."
For Brooks, tomorrow's game is about finally earning some respect within the Pac-10.
"It's a big difference being ninth or 10th, even if nobody else sees it," Brooks said. "It's a big difference not being in the basement."


Write a Letter to the Editor