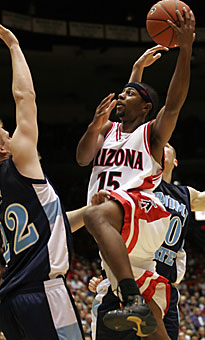 SAUL LOEB/Arizona Daily Wildcat

UA sophomore point guard Mustafa Shakur drives to the bucket during the Wildcats' exhibition victory over Sonoma State last night in McKale Center. See story page 13.

By Michael Schwartz
Arizona Daily Wildcat
Friday, November 12, 2004
Print this


The Arizona men's basketball team looks ready for the regular season after whipping Sonoma State 105-80 last night in its final exhibition game of the year.

The Wildcat cats likely won't live up to their top-10 national ranking, however, if center Channing Frye cannot stay on the court.

After a first half in which Frye scored only six points in six minutes of play after picking up two early fouls, he scored the second half's first nine points as the Wildcats blew the game open with a 13-3 run. Arizona extended its lead to 31 at one point before winning by its 25-point margin.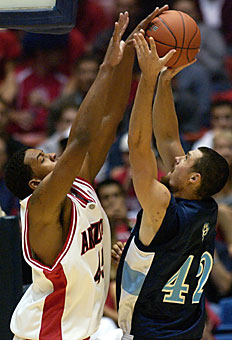 SAUL LOEB/Arizona Daily Wildcat
UA senior center Channing Frye blocks a shot during the Wildcats' 105-80 exhibition victory last night in McKale Center. The Wildcats open regular season play Tuesday against San Diego in the first round of the National Invitational Tournament.
"Channing did a great job in the second half of bringing more intensity because he started off slow in the first half," point guard Mustafa Shakur said.
The Seawolves, a Division II school from Northern California, kept it close in the first half, trailing only 51-41 at the break. They could not keep up with the Wildcats when UA raised its intensity level in the second half.
"We were not ready to play to begin the game," coach Lute Olson said. "It started with the jump ball. Channing was a half count behind on the jump ball, but it was just typical of everything in the first half. The second half we played with enthusiasm."
Arizona's balanced attack included four players scoring at least 18 points, led by Frye with 24. Shakur added 22 and starting forwards Hassan Adams and Ivan Radenovic chipped in 19 and 18 respectively.
Shooting guard Salim Stoudemire scored only four, but he frequently found the open man, leading to 10 assists.
"Guys were looking for me a lot more aggressively when they were getting doubled," said Shakur, who also pulled down a career high ten rebounds. "Salim did a great job looking for me when he's getting doubled. Salim's such a threat that he's going to get doubled when he catches the ball and he's recognizing that a lot more this year."
In the first half, guard Chris Rodgers kept the Wildcats ahead with four steals. He ended up with six for the game.
"He came in and gave us a big lift defensively with the steals and I think that Chris can be that kind of a guy for us off the bench like that," Olson said. "He has the ability to come in and immediately make some kind of impact. He feels that he can be the kind of guy Jason Terry was for us because he has the ability to come out and kind of spark his teammates and spark the crowd with his defensive play."
Rodgers said that he tries to do whatever he can to help the team win.
"Whatever I can do for this team I'm going to do whether it's trying to get some rebounds, taking charges or getting hustle plays every night," he said. "On offense we've got ever single weapon, but we've got to defend. That's going to be our biggest challenge."
Olson said the team's biggest problem in the game involved not "stopping the penetration by their guards."
Frye's absence in the first half especially hurt since Isaiah Fox sat out his second consecutive exhibition game because of off the court issues. Fox said earlier this week he doesn't expect to play in the team's season opener. Sophomore center Kirk Walters also sat out his second straight game since he's expected to redshirt the season.
The team's big men did get a contribution from freshman forward Mohamed Tangara, who got his first minutes of the season after sitting out the exhibition game against Team Georgia. He finished with three points and five boards in limited action.
"I was impressed with his rebounding, but you could see on the defensive end he just made a lot of mistakes and offensively he has very little idea of what we're doing at this point, but the thing that was most impressive about Mohamed all along is that he's someone who just goes and gets the ball," Olson said.
With the exhibition season over, UA now focuses its attention on the regular season opener. They will host San Diego on Tuesday at 7:00 p.m. in the first round of the preseason NIT on ESPN2.
"The first half some guys weren't focused like they should be but Tuesday everyone's going to be ready," Rodgers said. "We're going to be pumped."


Write a Letter to the Editor