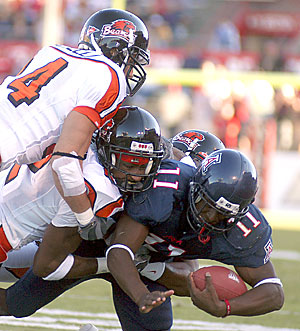 CLAIRE C. LAURENCE/Arizona Daily Wildcat

UA junior tailback Mike Bell is dragged to the ground by Oregon State defenders during the Wildcats loss to the Beavers Oct. 30 at Arizona Stadium.

By Brett Fera
Arizona Daily Wildcat
Friday, November 12, 2004
Print this


If last weekend's UA victory over Washington was for the Pac-10's pseudo-championship - rather just to stay out of the conference basement - then the Wildcats' matchup tomorrow with top-ranked Southern California must be of National Championship proportions.

"We're going to look at it like our national championship game. It's a great opportunity to shock the country," said UA senior tight end Steve Fleming, preparing for second to last game in a Wildcat uniform, with kickoff set for 7:15 p.m. PST from Los Angeles. "It's an opportunity for us to play in the Orange Bowl, as far as I'm concerned."

A win by Arizona (2-7, 1-6 Pacific 10 Conference) would no doubt shock the college football landscape, which hasn't seen No. 1 USC (9-0, 6-0) lose in its last 18 games, dating back to a triple-overtime loss last season to California.
Arizona Wildcats (2-7)

vs.

So. California Trojans (9-0)
Tomorrow, 8: 15 p.m.
TV: Fox Sports Net
Radio: 1290 AM

Los Angeles
"We'll be excited to go play," UA head coach Mike Stoops said. "It's not anything we're going to be intimidated by. It's a huge challenge for us."
"This is the fourth top-10 team we've played. This is the third undefeated team we've played," Stoops added. "Yeah, we'll have to play close to flawless football and get some breaks."
If the Wildcats needed any momentum heading into 92,000 seat Los Angeles Memorial Coliseum, they received in their last game, a 23-13 victory over Washington in Seattle.
"I'm happy that we won. I'm happy for our kids. They've worked tremendously hard and to get a victory in conference is a good feeling," Stoops said. "I know its just one win, but we're obviously very excited and happy to go on the road and overcome some bad things and pull if off."
Stoops did admit, however, that defeating a Washington team with just one win in nine tries this season isn't too similar to squaring off with the defending national champion.
"They have good players across the board. They can run it. They can throw it," Stoops said. "It's like all good teams, they execute what they do."
The Trojans received a bit of a scare last weekend, defeating Oregon State 28-20 amidst heavy fog in Corvallis, Ore., but managed to squeak out the win thanks in part to a Reggie Bush punt return for a touchdown late in the game.
"Anytime he touches the ball he's a threat to go," Stoops said, adding that UA quarterback Matt Leinart, who along with the tailback Bush is considered a strong Heisman Trophy Candidate, is no slouch himself. "He's very composed, very talented and doesn't force anything."
UA junior defensive lineman
Marcus Smith said the Wildcats have to play a near perfect game if they want to do the unthinkable this weekend in Los Angeles.
"We're going to have to have probably our best week of practice and our best game if we want to win," Smith said.
"We have nothing to lose," said UA freshman cornerback B.J. Dennard. "We have nothing to lose. We can play with USC. We just have to play with confidence. You have to play a perfect game and eliminate mistakes."


Write a Letter to the Editor