Men's Hoops: Wildcats shoot down Wright State
Cats head to N.Y. next week for NIT semifinals
Salim Stoudamire scored 17 of his 24 points in the first half to lead the Wildcats to an 83-66 win over Wright State in the second round of the Preseason NIT last night in McKale Center.
The Wildcats (2-0) extended their lead to as much as 33 points with 14:22 remaining in the second half, but the Raiders (1-1) cut the lead to 15 by the 7-minute mark. [Read article]



Men's Hoops: Game analysis
Stoudamire's 24 points paces Cats in NIT rout
The Arizona men's basketball team's senior leaders did more than just lead in last night's game against Wright State. They dominated, scoring 37 points on 14-of-22 shooting in the Wildcats' 83-66 win in McKale Center.
Senior guard Salim Stoudamire hit 3-pointer after 3-pointer in the first half en route to 24 points, 17 of which came in the opening period. [Read article]




Volleyball: UA, ASU battle in televised match
The No. 22 Arizona volleyball team heads to Tempe to battle instate rival Arizona State tonight at 7 in its final road match of the regular season.
The Wildcats (16-9, 8-7 Pac-10) have their work cut out for them as the game serves as senior night for the Sun Devils (10-14, 5-10). In addition, senior middle blocker Jolene Killough said she expects Arizona State to bring its A-game, as the matchup will be broadcast on FSN Sunday at 1 p.m. [Read article]




Icecats back home against Texas Tech
The No. 20 UA Icecats return home to the Tucson Convention Center tonight to play Texas Tech at 7:30, fresh off a pair of road wins last weekend.
Icecat head coach Leo Golembiewski said that although Texas Tech is new to the American Collegiate Hockey Association, he expects them to be competitive.
"They're coming off two close games against Oklahoma," he said. "They've beat everyone with the exception of two top teams (OU and No. 4 Lindenwood). They're a solid team." [Read article]



Women's hockey faces ASU in Glendale Arena
Icers open schedule as lack of funds puts status of season in jeopardy
The UA women's club ice hockey team would love nothing more than a chance to win a few games on the ice, but the only way that will happen is if the Icers win their current battle out of the rink - by trying to earn enough money to salvage their season.
Entering its sixth season of play, a desperate lack of funds and consistent lack of awareness in the local community have created the possibility that the Icers will have to cut their season short well before its intended finish date. [Read article]



Rugby tussles with rival ASU at home tomorrow
For more than a month, the Arizona men's club rugby team has had to deal with the harsh reality of being winless.
Come tomorrow morning, the Wildcats hope to ease their frustration when in-state rival Arizona State comes to town.
"We're better than that record shows," said head coach Dave Sitton. "We've been 0-2 for month now, and that's really stuck in everyone's craw. I definitely won't have to give a pep speech for this one." [Read article]



Swim, dive heads west to hit pool with USC, UCLA
The Arizona swim and dive teams compete in their first Pacific 10 Conference meet today, with both the men and women taking the pool against Southern California in Los Angeles. The women's squad will also take on UCLA tomorrow.
"Both schools always seem to swim well. With UCLA in the past its been back and forth with who has won, but we have won the last couple," UA head coach Frank Busch said. [Read article]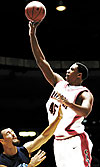 Chemistry key to UA run
Meanwhile, back in Coach Olson's top-secret lab...
It's tough to argue with UA senior center Channing Frye's most recent assessment of Arizona head coach Lute Olson, now entering his 22nd season as the Wildcat men's basketball team's top dog.
"He's the guru," Frye said before an early-season mid-afternoon practice in McKale Center. "It's one big chess game to him."
"Some of us are rooks and some of us are pawns, and each of us has our own abilities," Frye added. "But every piece is just as important." [Read article]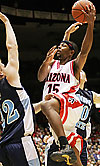 National domination
The expectations were high last season, as Arizona had a preseason ranking of No. 4. But no one knew which Arizona team would show up - the team that beat Texas and Marquette early in the season, or the team that got swept by Washington in the season series and the Pacific 10 Conference Tournament and lost to Seton Hall in the first round of the NCAA tournament.
"I think it's a matter of if there are still question marks of which Arizona team you're going to see, the one that can play with anybody or the one that struggled," said head coach Lute Olson. [Read article]




No more sharing the spotlight
Last year's tie for the Pac-10 title just won't cut it for UA ...
A season removed from a program-best campaign, the No. 24 UA women's basketball team looks to build upon its previous success while blazing new trails.
UA returns four starters from last year's 24-9 squad, led by senior point guard Dee-Dee Wheeler and junior center Shawntinice Polk.
Polk averaged 16.6 points and 10.3 rebounds a night last year, while Chicago native Wheeler posted 16.9 points, 4.7 assists and 4.2 rebounds per game. [Read article]



Commentary: No Iguodala? No problem
Right now, he's probably just waking up, tired from logging minutes as the starting small forward for the Philadelphia 76ers. They had a game last night against the San Antonio Spurs. Maybe Bruce Bowen guarded him, he of four consecutive NBA All-Defensive Team appointments. Andre's quicker, but Bowen has the savvy.
I bet Andre's in some giant pain right now.
Believe it or not, the team he left won't be. Not today in practice. Not the next day. Not even Sunday against Virginia at Charlottesville. Without Andre Iguodala, the UA men's hoops team will be just fine. [Read article]



Commentary: Polk, Wheeler reminiscent of Kobe, Shaq era
Throughout their ill-fated run to the NBA Finals last season, the Los Angeles Lakers relied yet again on their Dynamic Duo. Guard Kobe Bryant and center Shaquille O'Neal, much as they had during the team's last few playoff (read: title) runs, dominated at times with an unrivaled inside-outside game but floundered when facing similar, deeper personnel.
This famously occurred in May in Games 2 and 5 of the Western Conference Finals against the Minnesota Timberwolves. 'Wolves guards Sam Cassell and Latrell Sprewell, along with a spry, supercharged Kevin Garnett in the post, frustrated the Lakers and negated the efforts of their two top scorers. Though Los Angeles would win the series in six games, setting the stage for a Detroit-sized dismantling in the Finals, the team prevailed merely by the sparks provided by guard Kareem Rush (6-of-7 from beyond the arc in Game 6) and forward Luke Walton, an Arizona alum. [Read article]




Wheeler's world
Every great team has great leadership ... the Cats are no exception ...
Sure, a share of the Pacific 10 Conference title last year was nice, and being a two-time first-team all-conference performer wasn't too shabby either.
But senior point guard Dee-Dee Wheeler wants more.
This is the very last season of her collegiate career and if she has it her way, this one won't be done without a Pac-10 championship. One they don't have to share with Stanford. Also, the season wouldn't be ending until, say, late March? Early April? [Read article]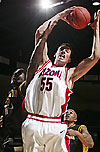 International Invasion
The international invasion hasn't only hit the NBA, but now college as well. The U.S. did not win the gold at the Olympics in basketball this summer, nor did they get the silver medal.
Basketball powers Argentina and Italy, respectively, took those medals.
Huh?
The influx of talent has, however, flown into Arizona, as the Wildcats currently have four players born in international countries, and one possibly joining the team for the second semester. [Read article]




Devastating Depth
Last year's loss to Seton Hall in the first round of the NCAA tournament is still ingrained in the minds of the remaining players of the UA men's basketball team.
The Wildcats shot 53 percent from the field in that game, while the Pirates shot just 47 percent, and the UA hit 15-of-19 from the free throw line, after leading the Pacific 10 Conference in that category throughout the season.
So what actually happened? [Read article]




Hometown Hero
She plays alongside arguably the best athlete the UA women's basketball program has ever seen - senior guard Dee-Dee Wheeler.
She's been handed the unenviable task of replacing a cult hero – former Wildcat sharpshooter Aimee Grzyb, a four-year starter who's Arizona's all-time leader in games and minutes played while sitting second on the UA career 3-point list.
She's also been thrust into action almost immediately, playing her first truly competitive basketball in nearly a year. [Read article]




My Summer Vacation
Our heroes never rest ...
Ah, summer vacation.
A time for many average college students to sit at the beach soaking in the sun, or relax back in their hometowns.
Some may even take a summer school class.
School was in session for Hassan Adams and Mustafa Shakur this offseason, but the UA men's basketball team's dynamic duo is anything but a pair of average college students.
Adams and Shakur, preparing for their second season together at the UA, had the chance to learn more about each other's games on the court while playing on the USA under-20 team in the Tournament of the Americas together. [Read article]



Commentary: Arizona men poised to win it all, or lose really early again
This men's basketball team has a chance to be really good.
Or really bad.
The maturity the team has shown over the past offseason has everyone ranting about how the Wildcats have a chance to make another Final Four.
Yeah, but what about Isaiah Fox continually having off-court problems and sitting out the first few games?
Well, the power forward that missed all last year hasn't done much wrong to date except coming in resembling the Pillsbury Doughboy with a vertical that just eclipses college ruled paper. But at least he hasn't stolen anything. [Read article]



Staff picks: preseason predictions
Shane Bacon
staff writer
Michael Irish
staff writer
Kyle Kensing
staff writer
[Read article]



Super Men Vs. Super Villains
Our story continues ...
1. Kansas
The Jayhawks return to the preseason No. 1 slot for the first time since Wilt Chamberlain played in Lawrence, Kan.; the trio of Wayne Simien, Keith Langford and Aaron Miles hope to pull a UConn redux and end the season where they started it.
2. Wake Forest
For the first time in a long while, it's not Duke, not North Carolina and not even North Carolina State that's the best team on Tobacco Road. It's the Demon Deacons, lead by star point guard Chris Paul. [Read article]



Cat Women Face Fierce Battle
Meanwhile, across the country ...
1. Tennessee
The Vols find themselves in a familiar spot: No. 1. Tennessee lost to UConn in the national championship game last year and is the favorite to win the crown this year.
2. Texas
Sophomore All-America candidate Tiffany Jackson has the Longhorns poised to break down the door of Tennessee and Connecticut's dual women's college hoops dynasty. [Read article]



Gameday guide
McKale Center ticket info
A limited number of tickets are available for all 2004-05 men's basketball home games. Tickets can be purchased in person at the McKale Ticket Office, or by calling 621-CATS.
After 5 p.m. on game day, tickets must be purchased in person.
Tickets will be sold on a first-come, first-served basis beginning at 9:00 a.m. on a day leading up to the day of the game. [Read article]



UA men's hoops 2004-05 schedule
Oct. 31, 2 p.m. - Pepsi Red-Blue Game
Nov. 7, 2 p.m. - Team Georgia (ex)
Nov. 11, 7 p.m. - Sonoma State (ex)
Nov. 16, 7 p.m. - San Diego (preseason NIT)
Nov. 18, 7 p.m. - Wright State/Tulsa (preseason NIT)
Nov. 21, 3 p.m. - at Virginia
Nov. 24&26, TBA - Preseason NIT (New York)
Nov. 30, 7 p.m. - Wyoming
Dec. 5, 2:30 p.m. - Mississippi State (at Wooden Classic)
Dec. 11, 11 a.m. - Utah [Read article]



UA women's hoops 2004-05 schedule
Oct. 28, 7 p.m. - Red Blue game
Nov. 2, 7 p.m. - Play Mode Sports (ex)
Nov. 8, 7 p.m. - Baden Sports (ex)
Nov. 12, 7 p.m. - Saint Mary's (preseason WNIT)
Nov. 14, 7 p.m. - Rice (preseason WNIT)
Nov. 17, TBA - Preseason WNIT
Nov. 27, 2 p.m. - at Brigham Young
Nov. 29, 6 p.m. - UTEP
Dec. 4, 3:30 p.m. - UNC Greensboro (Fiesta Bowl Classic) [Read article]



Men's Pac-10 Breakdown
Back at the enemy's lair...
based on preseason media poll prediction
2005 Pac-10 Tournament, March 10-12
Staples Center (Los Angeles)
1. Arizona Wildcats (19 first-place votes)
Location: Tucson
Home Court: McKale Center (15,545)
Head Coach: Lute Olson (22nd season)
2003-2004: 20-10 overall, 11-7 Pac-10
Top Returnees: G Salim Stoudamire, C Channing Frye [Read article]



Women's Pac-10 Breakdown
Back at the enemy's lair...
1. Stanford Cardinal (eight first-place votes)
Location: Stanford, Calif.
Home Cour: Maples Pavilion (7,233)
Head coach: Tara VanDerveer (19th season)
2003-2004: 27-7 overall, 14-4 Pac-10
Top Returnees: G Kelly Suminski (10.0 ppg), F T'nae Theil (7.2 ppg)
2. Arizona Wildcats seven first-place votes)
Location: Tucson
Home Court: McKale Center (15,545)
Head Coach: Joan Bonvicini (14th season)
2003-2004: 24-9 overall, 14-4 Pac-10
Top Returnees: G Dee-Dee Wheeler (16.9 ppg), C Shawntinice Polk (16.6 ppg) [Read article]